Description
Algae Prevention & Eradication Specialist Certification Class
The curriculum of this course includes an in-depth discussion on Environmental factors, the Role of water balance, Disinfectants, Water chemistry, Maintenance practices, Filtration, Circulation, Water conditions algae species find desirable, Characteristics of different algae species, Black algae, Mustard algae, Green algae, White Water Mold, Iron Bacteria, Pink Slime, Legionella, Algastats, & Algaecides.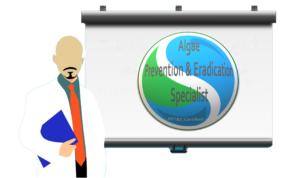 Stankowitz's Algae Prevention & Eradication Certification Course maps out a treatment protocol that focuses on understanding the different types of algae and their weaknesses. He covers the pool conditions favorable to algae growth and environmental factors that may be pool-specific. The pool professional also discusses the filtration, circulation, and chemistry requirements needed to prevent and treat algae. This class takes the guesswork out of pairing algaecides and algastats to specific types of algae growth. Stankowitz's approach is as unique as it is effective in teaching people to recognize each pool as an individual regarding treatment and maintenance in what he refers to as a "personalized pool treatment protocol."
Allow one business day following purchase to receive your Algae Prevention & Eradication Specialist Certification class login instructions and access code.