Sale!
Swimming Pool Algae Prevention Eradication course
This 5-hour online program will enable you to learn everything you need to know about algae to position yourself as the go-to Guru in your market. Be the hero that saves the pool party planned for Saturday! Gain a marketable point of difference and an edge over your competition! Charge a higher rate for service because your additional training justifies it! You are the Certified Algae Prevention & Eradication Specialist!
Description
Swimming Pool Algae Prevention Eradication course
The curriculum of the Swimming Pool Algae Prevention Eradication course includes an in-depth discussion on Environmental factors, the Role of water balance, Disinfectants, Water chemistry, Maintenance practices, Filtration, Circulation, Water conditions algae species find desirable, Characteristics of different algae species, Black algae, Mustard algae, Green algae, White Water Mold, Iron Bacteria, Pink Slime, Legionella, Algastats, & Algaecides.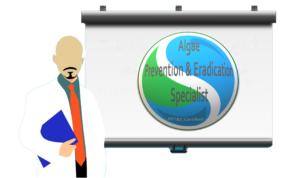 Stankowitz's Swimming Pool Algae Prevention Eradication Course maps out a treatment protocol that focuses on understanding the different types of algae and their weaknesses. He covers the pool conditions favorable to algae growth and environmental factors that may be pool-specific. The pool professional also discusses the filtration, circulation, and chemistry requirements needed to prevent and treat algae. This class takes the guesswork out of pairing algaecides and algastats to specific types of algae growth. Stankowitz's approach is as unique as it is effective in teaching people to recognize each pool as an individual regarding treatment and maintenance in what he refers to as a "personalized pool treatment protocol."
Student Testimonial
'I completed this course today. Great content. Very Challenging! Must read the book AND pay attention to all of the lectures!!! Not a course for beginners. This Certification program will definitely elevate you as a professional!!!'

– Jerry Wallace, CEO of Swim Chem, Sacramento, California
The ONLY Certification Course on Swimming Pool Algae!
Enroll in the only focused training available on how to remedy and impede one of the most common nemeses in pool care.
In this session, you will learn
Identify environmental factors that contribute to algae growth
The role of water chemistry
The role of filtration & circulation
Pool surface conditions
Preventative maintenance measures
The need to educate the pool owner
Water conditions specific algae species find desirable
Accurate algae species identification
Pairing algaecides to algae types
Algastats
Developing your own protocol of care
and more…
Allow one business day following purchase to receive your Algae Prevention & Eradication Specialist Certification class login instructions and access code.
Want more? Find additional on-demand courses for the swimming pool professional, here: OnlinePoolClasses.com