PHOENIX – American Pool Service's Aquatics Vision program has achieved CMAHC Certification (Council for the Model Aquatic Health Code Certification) for compliance with standards in the latest edition of the Model Aquatic Health Code (MAHC).

Receiving this important certification validates our emphasis on the highest standards for health and safety in and around pool environments,

Dan Lawler, Executive Vice President, U.S. Commercial Services Group, American Pool.
Aquatics Vision is designed to provide around-the-clock protection by automating pool functions and capturing an accurate historical log of water chemistry. The program continually monitors and adjusts a spa's or pool's chemistry – comparable to having a dedicated onsite technician.
American Pool strives to provide safe and fun aquatics experiences to all our clients. This certification from CMAHC reinforces our position to operate every pool environment based on the best available standards and practices for protecting public health. Additionally, it validates the essential need to monitor and adjust pool chemistry automatically and remotely to meet all local legal requirements with a focus on public health benefits for our patrons.

Dan Lawler, Executive Vice President, U.S. Commercial Services Group, American Pool.
The CMAHC certification program, launched in 2018, helps educate the public about products and services that meet the strict, science-based standards in the Centers for Disease Control and Prevention's (CDC) Model Aquatic Health Code (MAHC). If followed, the guidance in the MAHC helps reduce the risk for disease outbreaks, drownings, and chemical injuries at public aquatic facilities. The CMAHC awards certification to services or products that comply with the relevant or applicable standards in the latest MAHC edition.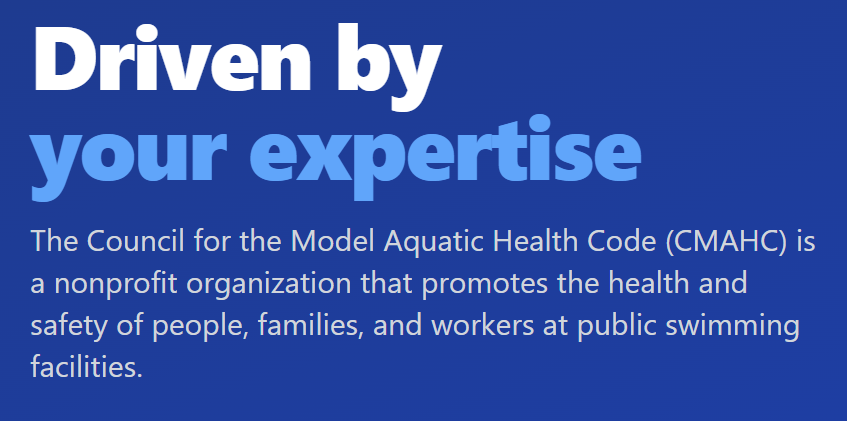 CMAHC certification is not a single occurrence, and instead, the intent is to build a long-term quality control partnership. After initial certification, the CMAHC re-evaluates each certified service or product annually to ensure it continues to meet the same high standards required in the MAHC to maintain certification. Services or products that earn a CMAHC certification are said to be "CMAHC certified" and may display the CMAHC certification emblem to demonstrate they have been evaluated for conformance with the requirements in the latest MAHC edition.
About American Pool Service

American Pool is the largest full-service commercial pool management company in the United States. Our comprehensive set of services covers all aspects of pool management and maintenance, including providing fully accredited lifeguard staffing and facilities management. Our trained pool operators create a healthy swimming environment by managing every part of your aquatic facility, ensuring the total safety of your operations, from management and maintenance to construction, renovation, and repair.
similar article CMAHC's Dewey Case Discusses Importance of Virginia Graeme Baker Pool & Spa Safety Act
American Pool can assure that your pool environment exceeds your expectations while remaining in full compliance with all state and local requirements. Our customers include apartment complexes, municipal facilities, swim clubs, country clubs, fitness clubs, military housing, homeowner and condominium associations, hotels, and active adult communities. American Pool stands ready to provide any combination of our services to meet the complex needs of the commercial pool environment. For more information, visit https://americanpool.com.
About CMAHC:

The Council for the Model Aquatic Health Code (CMAHC) exists to manage updates to and promote voluntary adoption of the Centers for Disease Control and Prevention's (CDC) Model Aquatic Health Code (MAHC), the only all-inclusive national model pool code. The MAHC is sustainable, current, and complete because the people who use it also research, develop, discuss, and vote on proposed changes through membership in the CMAHC.
The CMAHC submits proposed changes to CDC to advise how the MAHC needs to change to keep up with the latest science and best practices. Throughout the year, CMAHC staff educate local and state authorities, aquatic facility owners and operators, designers and builders, manufacturers, and suppliers about the MAHC and its potential to ensure a healthy and safe swimming experience for everyone. To learn more, visit www.cmahc.org.

Media Contact:
Adam Chen
[email protected]