If you are reading this, you are taking the first step in doing this the right way. Winging it and figuring it out as you go is the wrong way, but you'd be surprised at how many service companies start by doing just that. Experimenting on unsuspecting homeowner's pools is heinous. Increase your pool knowledge!
I honestly don't care in what order you set your company up in making it a legal company, and I need you to understand that having an education before you stick a pole in the water is as important as liability insurance or a business license. I'm actually tempted to say more important,' but I don't want you running around out there with some knowledge and a company that isn't legal either.
Work for Someone.
Probably not what you want to hear. You've decided to be your own boss, and here I am telling you to go out and find a job. But, you may want to bite the bullet. The best way to obtain the experience necessary to start servicing swimming pools is to experience servicing swimming pools.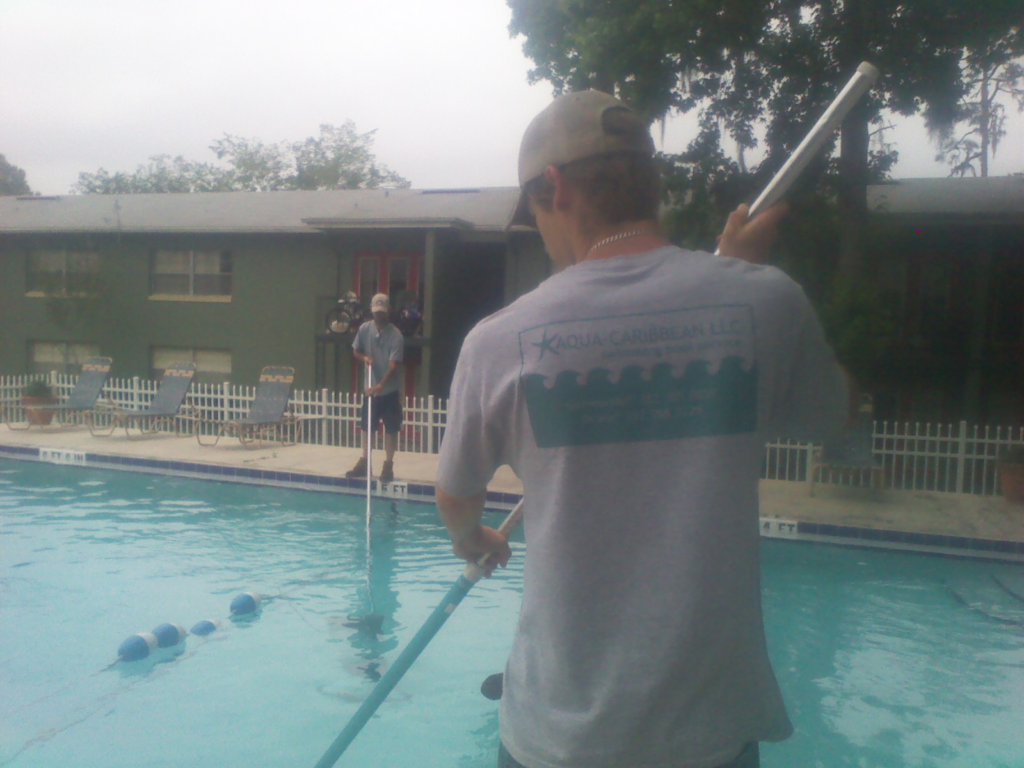 What you learn hands-on in the field cannot be duplicated in any class, video, or book. It would be impossible to simulate all of the scenarios you would be exposed to on a route's day-to-day. This is going to be a commitment in time. You are not going to have the skills you need after a year. In fact, the more years you have under your belt working for a seasoned pool professional, the better you will be set up for success.
Increase Your Pool Knowledge!
The listing of

manufacturers

tradeshows

trade magazines

trade associations

webinars

podcasts

blogs

Facebook groups

YouTube channels

below is not all-inclusive.
Manufacturer Training Seminars.
These are great and super convenient. Manufacturers hold these lectures, often with some degree of hands-on opportunity, at swimming pool supply distribution centers about the country.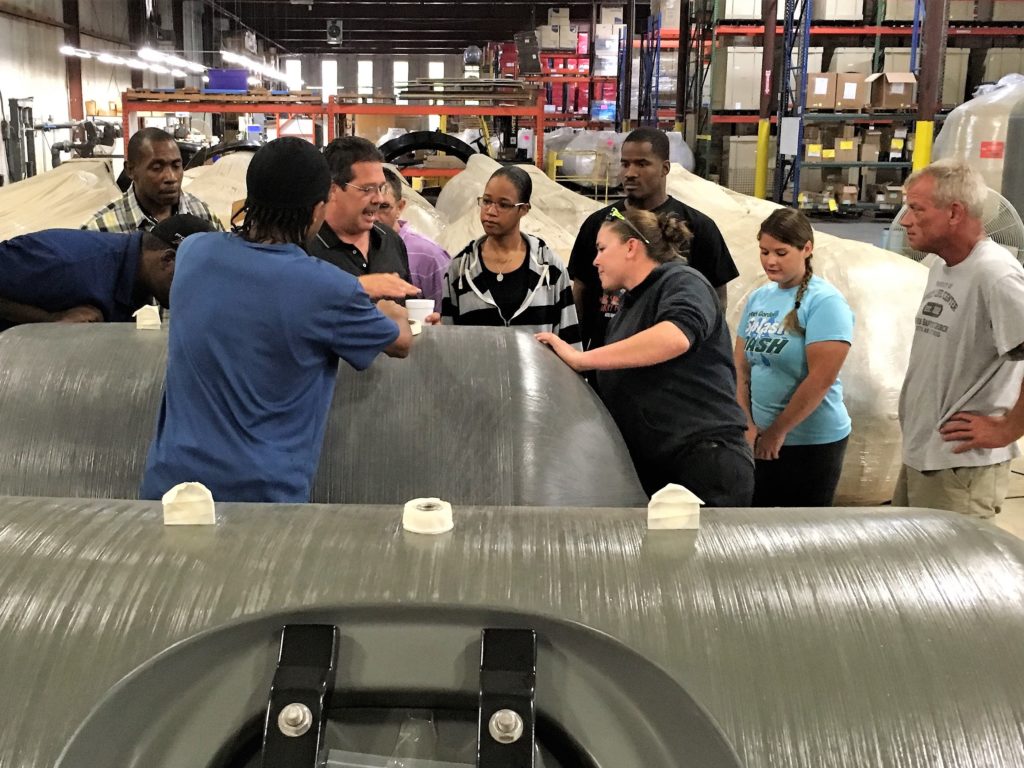 The beauty of this is that there are so many distributor locations that you will likely be able to attend manufacturer training seminars in the county or town you live in; who better to teach you to use a product than the folks that manufactured it. Contact your local swimming pool wholesale distributor and inquire about these opportunities.
Trade Associations.
Trade associations are a tremendous resource with a focus on industry advocacy and education. You will have choices of either national or regional organizations. Membership fees will vary, but many will also offer non-member pricing on their classroom sessions if you are not ready to commit.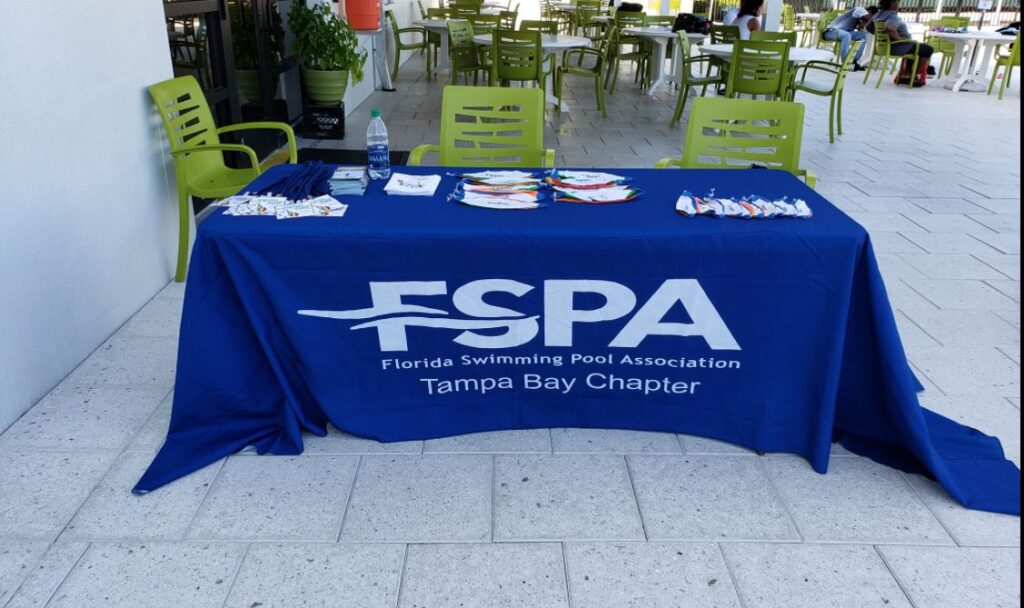 However, when you decide to become a member, you will have the strength of that association in support, hundreds of fellow members available for assistance, and local chapter meetings for networking and additional educational opportunities.
Trade Shows.
Trade shows are more than crowded convention centers speckled with eager vendors standing in front of elaborate displays handing out swag, ready to answer questions about product, and sometimes offering deep discounts via 'Try Me' programs.
Hint – Many times, vendors do not want to pack up everything in their booths and bring it back with them. The last thirty minutes of the last day of a show can yield some significant savings.
Don't get me wrong, it is all of that, and it is pretty freaking spectacular, but they are also a wealth of educational lectures lead by some of the best of the best. The format is usually such that the class offerings are posted to the show or organization's website far in advance for attendee review and registration. Don't wait too long if you see a session you like; the popular ones can fill up fast.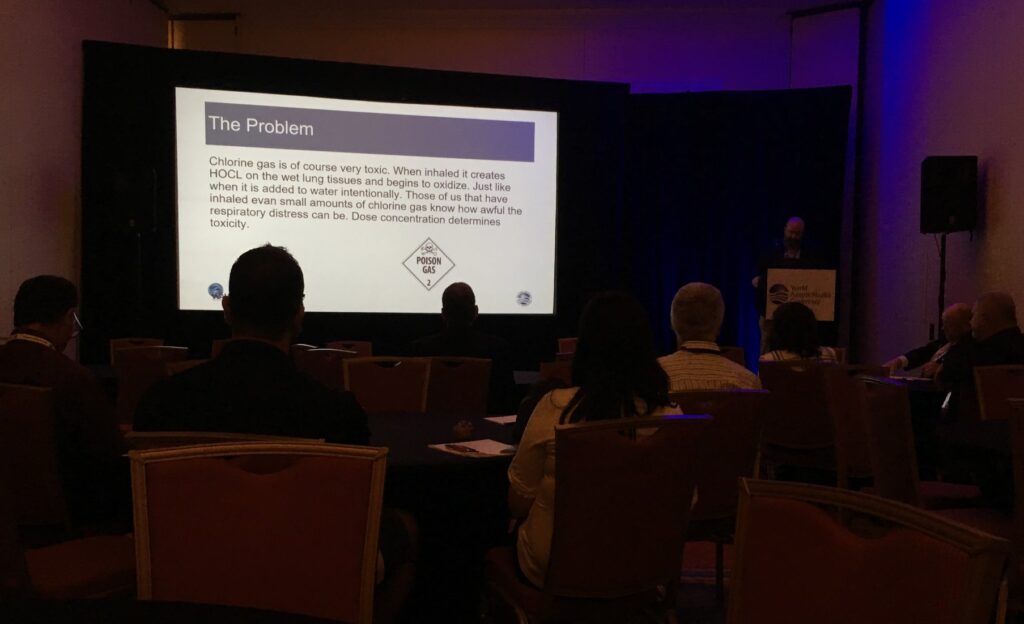 Certification classes.
These certificate programs provide an excellent foundation on which you can build upon, either specializing on a single facet or exposing a student to pool care A through Z. The classes are not designed to take you from rookie to expert; however, if paired with the right instructor the level of retention can be quite high.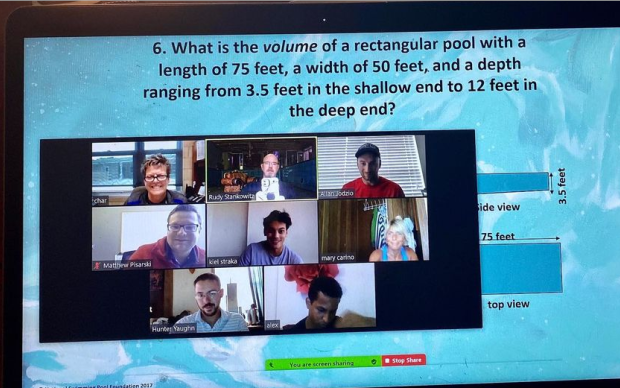 The programs are a great introduction to the swimming pool, everything for those that are green, and a tremendous refresher for the seasoned professional. I have yet to have anyone at any level of experience leave one of my classes without learning at least one new thing. I can say this – the Advanced Pool Water Chemistry Certification class is not a beginner class.
Trade Magazines.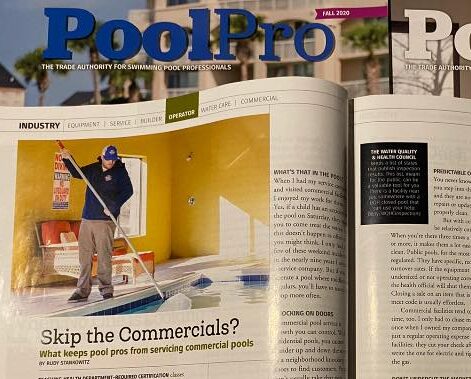 If you think these publications are nothing more than a collection of ads scantly separated by articles written by individuals who have done little more than swim in a pool, you'll need to think again. What you'll actually find in the pages are paragraphs of experience shared by contributors and columnists who not only talk the talk but walk the walk.
You'll find most are individuals at the top of their field, which at the end of the day, take pen to paper in hopes of sharing from their personal experiences. The best part is all are available in eBook format, and the paper magazines are delivered FREE.
Webinars.
Single-subject online live educational seminars where attendees have the ability to submit questions to the presenter. Quite often, those that attend will receive a certificate of completion for attending the session. A webinar is not free by definition.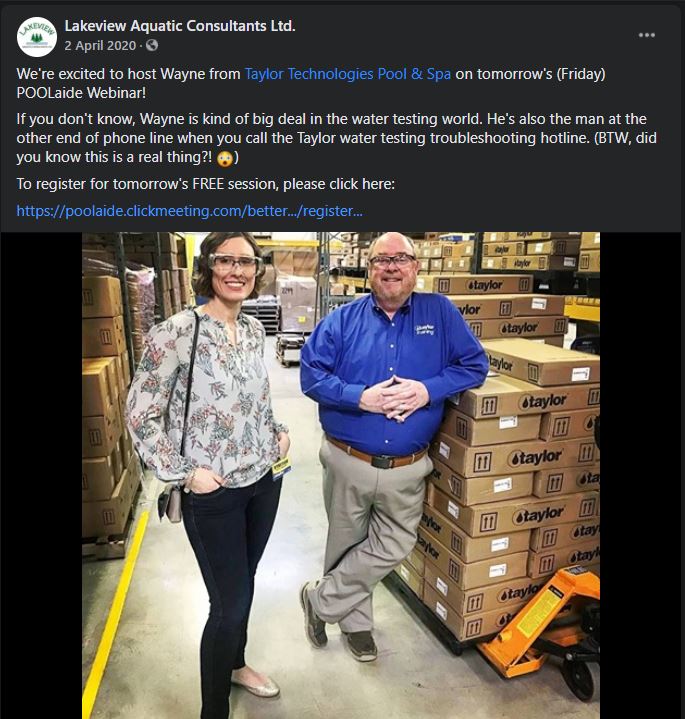 However, I am not familiar with anyone offering these, charging a fee. Manufacturers primarily offer these in the industry and again puts you in touch with an expert on the subject at hand. Why would anyone pass on a free educational opportunity?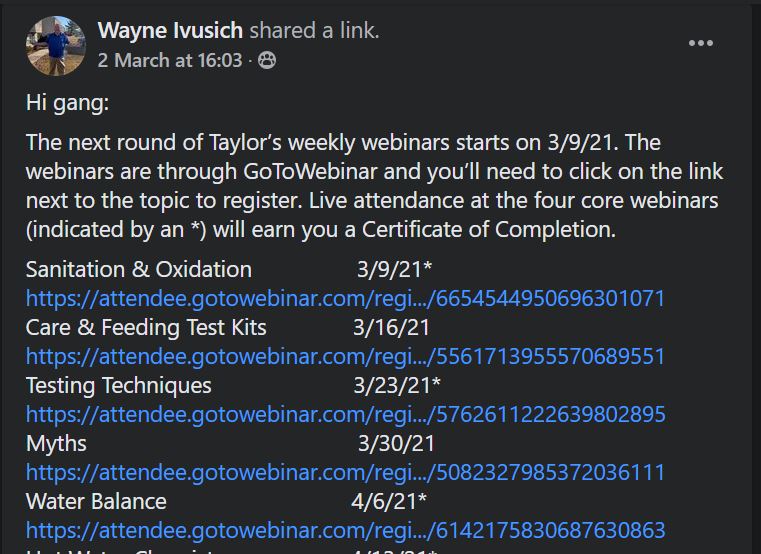 Podcasts, Blogs, and YouTube Channels.
Do you prefer to listen, read, or watch? User content on one platform or another (like this one) can put you in touch with pool professionals in the field through various means. You do need to be careful here.
The information put out on these platforms is only as accurate as that of the person who published it. These can be a great educational tool, or they can send you spiraling in the wrong direction. Not to worry, if you read the reviews and talk to your peers, you will undoubtedly wind up following some top-notch publications and programs.
Similar Article podcasts
Books
Facebook Groups.
I debated whether or not I would add this one here. Still, truth be told that pool industry Facebook groups provide a forum for networking, collaboration, and mentor-mentee interaction with a healthy dose of FUN in-between.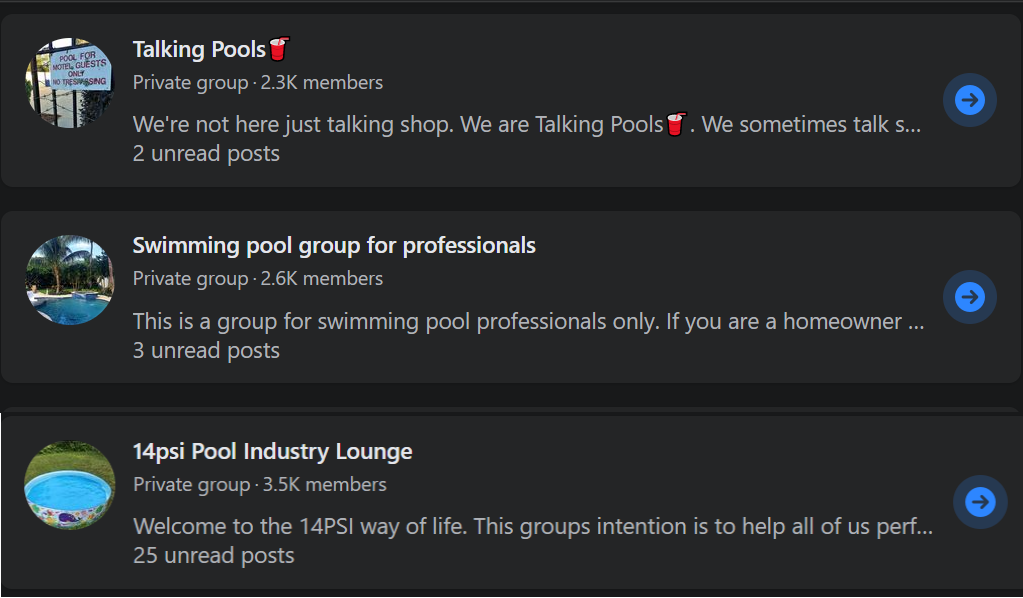 Even if you are not comfortable contributing initially, you can always hang in the shadows and observe a pool of professionals from around the world work together to develop solutions to member quandaries in real-time. I am not aware of any other format that is as conducive to such.