On the Verge of a More Active Algae Season than Ever Before Due to a Nation Wide Chlorine Shortage – There Are Steps That You Can Take to Prevent a Swamp Green Disaster.
There are many fantastic books on pool care available that some exceptionally brilliant people have written. But, what we are lacking are publications and courses that are in-depth and topic-specific. I saw that a program on algae was one of those missing, so I have written 'How to Get Rid of Swimming Pool Algae'. I've been through and taught other programs that merely touch upon the topic. Still, there wasn't really anything available that offered enough education to equip one with the knowledge necessary to remedy algae problems as folks encounter them in the field.

Rudy Stankowitz, CEO Aquatic Facility Training & Consultants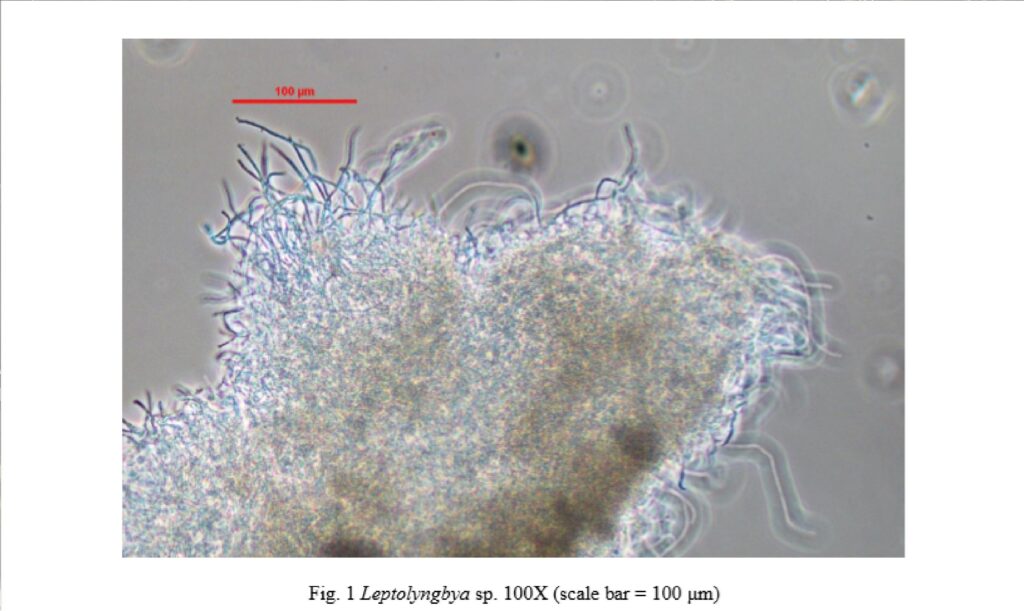 It doesn't make sense that people are forced to reinvent the wheel and employ a trial and error mean to develop a successful protocol of care. The pool industry has been very good to me, and I would like to 'pay it forward.' So, I have written this book based on my thirty years of experience and developed the Algae Prevention and Eradication Specialist certification program.

As I said, the goal is 'paying it forward'. That is why within the first few pages you will see that this book is dedicated to the people who maintain swimming pool(s) for a living. This book is for them – this book is for you.

Rudy Stankowitz, CEO Aquatic Facility Training & Consultants
.
the How to Get Rid of Swimming Pool Algae book is available Now
A MUST HAVE that applies to pools of any shape or size, whether you go on to take the certification class or not, you'll have fewer bouts with green, yellow, and black algae 🦠with this 'How to' book on your shelf.
Don't spend money on expensive treatments! Swimming pool algae is easy and super inexpensive to prevent when you know what to look for. Rudy shares tips and hacks that he has learned over his thirty years in the pool industry to help your pools keep that crisp, clear, Caribbean look.
All algae are not the same, and cookie-cutter treatments don't always work. Stankowitz takes the guesswork out of identifying what you are dealing with and matching the best treatment to the specific algae type. An excellent book for both residential and commercial pools.
the Algae Prevention & Eradication Specialist certification course is available beginning April 2nd, 2021
Rudy Stankowitz has created a handbook and course that will set you apart from your competition. This is the only publication with a 100% focus on swimming pool algae designed to help you become an Algae Prevention & Eradication Specialist. Now that's something you can put on your card that will give you a marketable point of difference.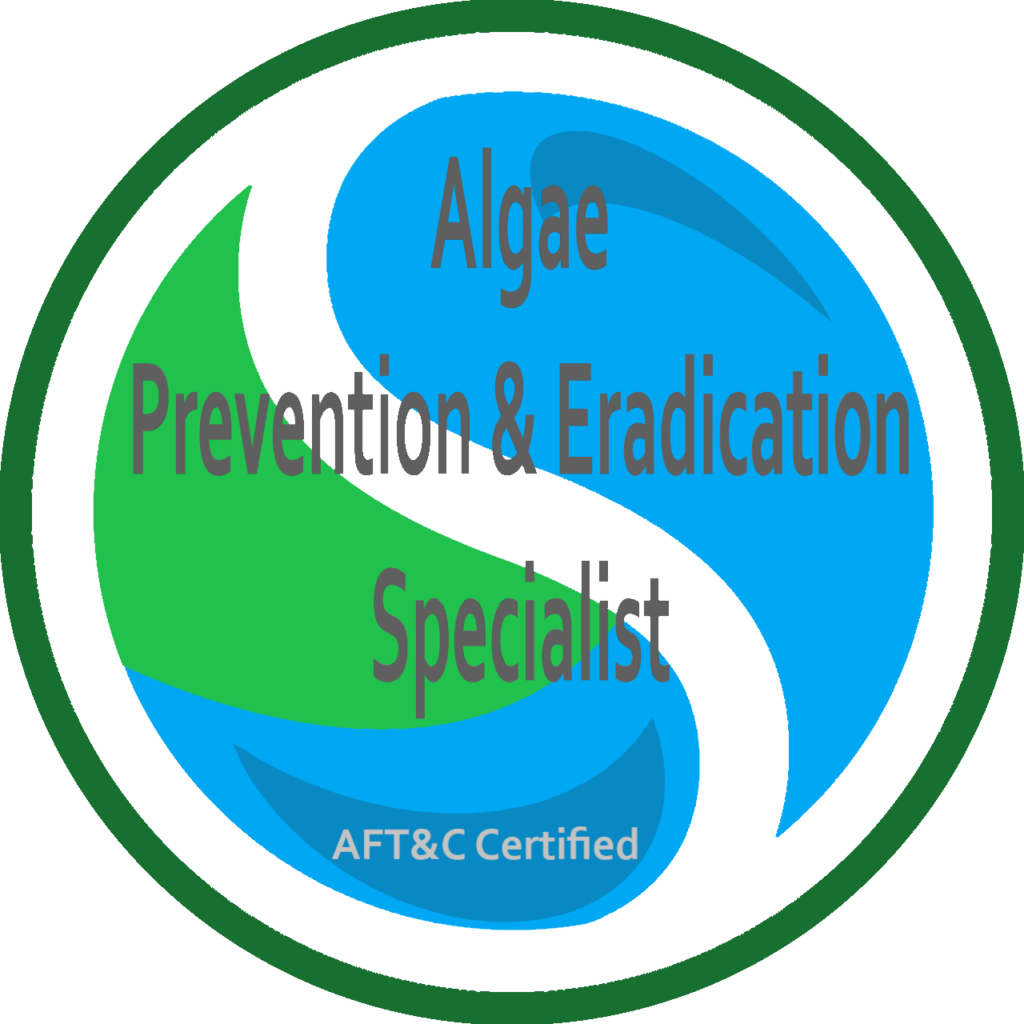 Be careful; this has the potential to become the most valuable book you own. Rudy has left nothing out, and he does it all utilizing real-world scenarios that make it easy to relate. The A to Z of swimming pool algae: How to prevent it, how to kill it, and how to keep it away. The best part is that the handbook can be used in his online Algae Prevention & Eradication Specialist Certification class (not included in the book's cost).
In this book, you will learn:
Algae Myths
Environmental Factors
The Role Water Chemistry Plays
Conditions Different Algae Types Prefer
The Influence of Filtration & Circulation
Characteristics of Algae Species
Algastats and Algaecides
And More!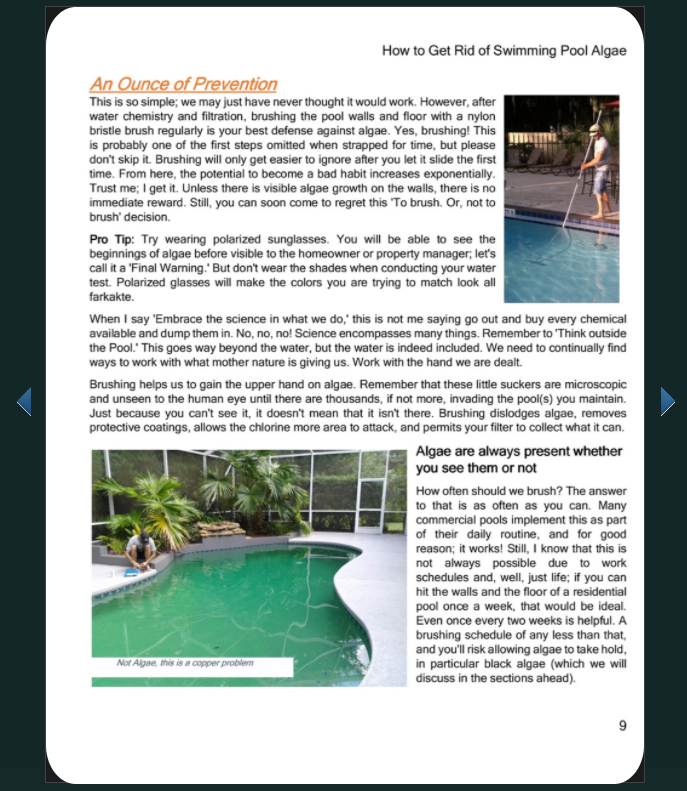 "Rudy, your field samples are very interesting – and rare. There is almost nothing published on the varieties of algae in pools… If you focus on black "algae," you will be the first person in nearly 40 years to document it. That would be really, really cool." – Dr. Roy D. Vore, Ph.D., Microbial physiologist, Senior Consultant, Vore & Associates LLC, previously Technology Manager, BioLab inc.
"Fascinating!!!" – Dr. Tom Lachocki. Ph.D., Chief Executive Officer, Executive Legacy LLC, previously Chief Executive Officer, National Swimming Pool Foundation
"Interesting Rudy. I think it points to the importance of conducting a larger study where a number of pools are sampled to look for trends and how and if the trends correlate to certain pool parameters (indoor vs. outdoor, disinfectant used, maintenance schedule, typical swimmer profile, etc.). It also demonstrates the importance of validating the efficacy of a product in a field trial(s). At the end of the day, the best approach may be tailored treatment plans that are optimized for each pools, similar to the "personalized medicine" trend. Good work!" – Darla Goeres Ph.D., Center for Biofilm Engineering, Montana State University
To see other books Rudy has written, visit his Author Page