The Dirty Swimming Pool Water Epidemic Includes Your Pool – Yes, Yours!

It's the week before Memorial Day 2018 and the Center For Disease Control releases its latest findings on pool and spas for Healthy and Safe Swimming Week.  The title reads "1 in 3 Swimming-Related Disease Outbreaks Occur at Hotels" and is picked up by just about every News agency and local paper during the following month.
If you own or manage a hotel, motel or vacation resort, this is probably NOT how you envisioned the kickoff to your summer season! Your guests are now inspecting your pool and second guessing whether they should jump in.
No worries, you have trained staff that clean and balance the water chemicals in your pool daily, or hourly, according to health department regulations. It's one of their many jobs.
The Oh Cr@P Moment
Surprise! Your state health inspector has stopped in for a visit during prime sunbathing time and closes down your pool for the day. Apparently, your staff forgot to test the pool this morning and hasn't been entering the data into the pool chemical log.  I guess you should have gone down to the pool and reviewed the logs, but you were busy too.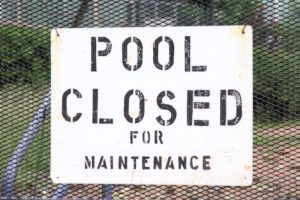 Luckily you got off easy, for now. Just a small fine, and some grumbling guests, with crying kids, who can't use the pool for 24 hours claiming you ruined their vacation.
Lets just hope no one reads the reviews that get posted this morning, and no one gets sick and blames it on your pool since you now have no proof they are wrong!
YOU ARE NOT ALONE!
80 % of commercial pools have health code violations, typically due to incorrect chemicals or record keeping.  12% are shut down immediately upon inspection according to the CDC report from 2013.
This is nothing new, these statistics haven't changed in the past 5+ years.
The World Has Gone Digital. Take Advantage NOW!
What if your company and staff could benefit from the digital revolution? Almost everyone has a smartphone in their pocket that can be used for everything from reading to shopping and now POOL MAINTENANCE!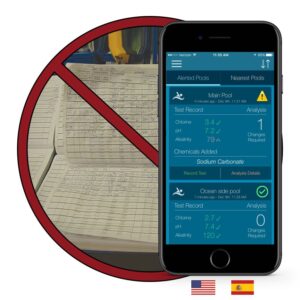 Pool Shark H2O is an electronic pool maintenance system providing online pool chemical logs, instant water analysis and dosage calculation for all your pools and staff.  Eliminating paper handling and time spent calculating chemical dosages is cost effective and keeps the pool water safe for guests.  Pool Shark H2O is 100% compliant with health department regulations and works on Windows, Android and Apple devices.
As a manager, you no longer need to walk around your facilities to check the pool logs as they are all available instantly from your desk or smartphone.  Even better, you are notified by the Pool Shark H2O system when a pool hasn't been tested or if the water chemicals are incorrect. Weekly reports are automatically emailed to you to ensure accountability from your staff.
Listen to Pool Talk interview with Pool Shark H20 CEO Scott Trafton: Pool Talk
Pool Shark H2O
While the story above is somewhat fictional, the statistics are real. It is based on what we commonly hear from clients, many of whom are commercial pool owners and Certified Pool Operators looking for a faster way to maintain pools, or regional property managers with facilities spanning the United States and Canada.

If you or your company are looking for an easier way to keep pools and spas clean that complies with your local health departments regulations, give us a try.
Visit www.PoolSharkH2O.com for a 30 day trial.
Use Promo Code: SHARK2018 and they'll take 10% off your first year's paid subscription.