Things we used to use that are still recommended that no one knows about
[responsivevoice_button voice="UK English Male" buttontext="Listen to Post"]
I'm not sure if you knew this or not, but 2021 will mark my thirtieth year in the pool business. In that time I have seen a lot of products come and go. Thus, Ancient Pool Pro Secrets.
Products that produced great results, like Simazine's disappearance at the EPA's hand, never to return. Items like phosphate removers and enzymes appeared out of nowhere and dominated the specialty chemical space for a never-ending reign.
Similar Article Alum CyA Removal Method Step-By-Step
The Good, The Bad, and the Rip-offs
Don't get me wrong; there was also plenty of crap that vanished as quickly as it cropped up too. A lot of things made sense. It was easy to understand why it came or why it left. Some that worked great disappeared for no apparent reason
Some Things That Were Replaced With Items That Were Simply More Profitable

Savogran 10621 Trisodium Phosphate (TSP) 1LB (16oz)
Filter Cleaner
Once upon a time, the go-to cleaning solution for cartridges and DE filter grids was TSP in water. Of course, this is before quart bottles of filter cleaning solution claimed space on the pool store shelves. It was super effective and super inexpensive.
Just one cup of TSP for every five gallons of water (fill the bucket with water first, then stir in trisodium phosphate). Plop the cartridge or elements in, and let soak overnight. The next day rinse the cartridge, or DE Grids, thoroughly, and reassemble the filter. Easy peasy.
Check out our videos on YouTube
If the cartridge has a lot of calcium, build up soak it in a 1:20 mix acid to water. Leave it in just until the bubbling stops. BUT FIRST, you should soak it in the TSP solution as described above.
This will remove oils and gak that would become a permanent varnish-like coating from the acid. If that were to occur, it would destroy the cartridge or element. Acid requires liquid impervious gloves and chemical splash goggles.
FYI – Phosphate and Phosphate Free formulas are available
Hoosier Hill Farm Alum Granulated Pickle Powder, 1 Pound
Water Clarifier
Aluminum sulfate (alum) is the original water clarifier. Its history in water treatment dates back 3,500 years – talk about a proven track record. This was a staple on shelves in pool stores until that blue liquid stuff came about.
This all happened about thirty years ago. The use of alum quickly became extinct in the pool industry. So much so that it had been forgotten. It's a shame because, again, a lot more effective and a lot less expensive than the alternative liquid.
The dose for hazy water (which is all liquid water clarifier can treat) is 2 oz per 10,000 gallons. The steps were simple.
Adjust the water pH to 7.2, then broadcast the required dose of alum. Let the pump run for 2 hours with valve in recirculate. Turn the pump off overnight, and the next morning a slow vacuum to waste. The only real downfall is that alum requires a water temp of >70°F. That and it should not be used with cartridge filters.
FYI – Alum is also a pretty darned good phosphate remover.
Ivory Original Bar Soap, 3.1 oz – 3 ea
O-ring Lubricant
O-rings never lasted so long compared to when they were lubricated with the 'Soap that Floats.' Coating the outside of your O-rings with Ivory gave the rubber an extra laying of slick protection.
This method is still preferred. However, since the Teflon and silicone-based lubes have gained popularity, the manufacturer's ivory recommendation has narrowed. Now it is limited to Viton chlorinator lid O-rings only. In fact, this instruction still appears in at least one of the major brands operating manuals.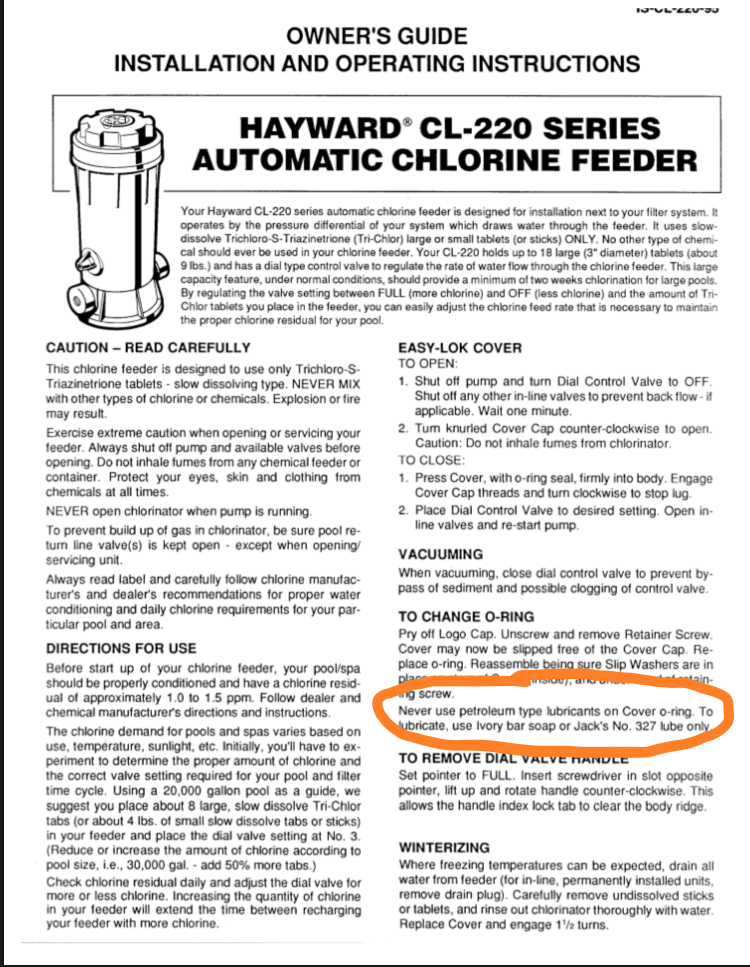 FYI – Ivory Bar soap specifically. Not Ivory liquid, Dove Irish Springs, Caress, Dial, Suave, Pantene, Jack Black, Oribe, etc.
Subscribe to our Pool Operator Talk eNewsletter
No Nonsense Women's 10 Pair Value Pack Knee High Pantyhose with Reinforced Toe, Tan, One Size
Skimmer Basket Socks
Then, of course, there is the original 'Skimmer Sock.' At ten pairs for $10 and change, they are a heck of a deal. Just put one in your skimmer basket the same as you would a trash bag in the kitchen wastebasket. Make sure the opening goes up and over the brim.
You'll catch the finest of particles and save tons of time. You won't have to backwash or clean your filter as often. There will be a lot more time in between on the empty the pump basket ritual as well.