Growth by acquisition is not a new thing in the pool industry.
Over the past thirty years, we have seen many pool equipment manufacturers purchase struggling companies to eliminate competition, gain market share, or springboard into a new facet of the business. Hayward purchased Arneson, which gave them a line of automatic pool cleaners they call the Navigator. In the 1990s, A.O. Smith bought Century Magnatek (called 'Century') electric motors only to be acquired by Regal-Beloit Corporation, who renamed the products' Century.' Pentair procured StaRite, American Products, Rainbow, A&A manufacturing, Pleatco (October 2021), and many others. Not so strange to see Fluidra gobbling up a U.S. manufacturer or two.

Pool Troopers is snapping up pool service/repair companies and has just moved into construction by obtaining a builder. POOL Corp (SCP, Superior) solidified their place in the commercial market by purchasing Lincoln Aquatics and, most recently, Vak Pak. It is gossiped to have its sights set on Leslie Pool in the near future. However, I wouldn't give the POOL Corp. – Leslie's thing too much gravity as word on that purchase has been churning in the rumor mill for a couple of decades.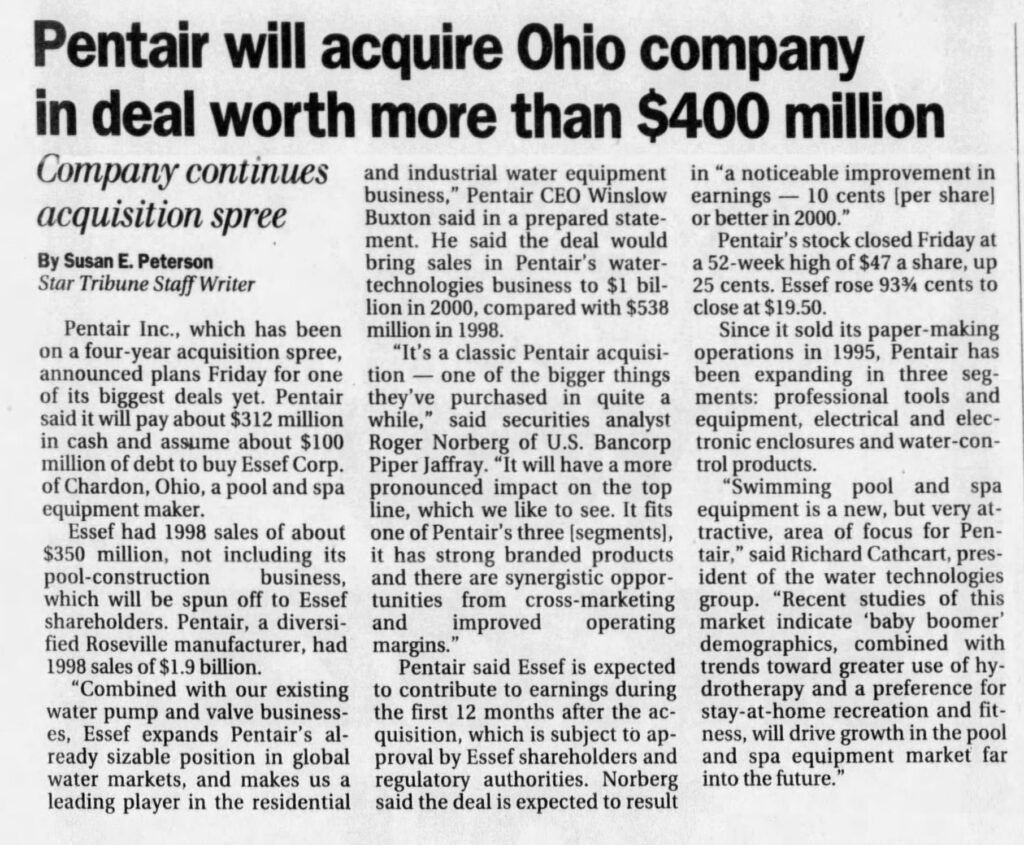 Fluidra gobbling up U.S. manufacturers
Fluidra has been the largest manufacturer and distributor of swimming pool equipment in the world for decades. But, up until a handful of years, ago not too many in the U.S. had ever heard of them. Their foothold in North America had always been their commercial line. However, those filters garnished the name Astral. This is a name the commercial pool builders and many aquatic directors would know, and the giant tanks, some as large as studio apartments, a bulletproof product in their line.
Catalonia, not Spain. El burro, no el toro
In 2018, Zodiac & Fluidra companies merged – each bringing a substantial portfolio of brands to the table making the combined company more well-rounded in commercial and residential across the world. This enabled Fluidra to become a significant player in the U.S. swimming pool field. In early 2021, Fluidra became a strategic partner with the PHTA (Pool and Hot Tub Association). On September 1 of 2021, they announced that Fluidra had acquired S.R. Smith, a commercial and residential pool deck equipment and accessories, US-based manufacturer. So, why not test kits? It's really not any different than a pool service company growing by purchasing a route.
similar article Simon Says No To CyA!
Here is this weeks Press release from Fluidra regarding Taylor Technologies that has everyone in a tizzy
Fluidra Continues Strategic Expansion with Acquisition of Taylor Water Technologies LLC
November 3, 2021
Addition of the US-based manufacturer of test kits, test strips, and instruments for monitoring water quality is complementary to and will further enhance Fluidra's industry-leading offering for residential and commercial pools.
Taylor's expertise in water chemistry testing will enable Fluidra to innovate in new product categories, providing substantial growth opportunities in the US and abroad.
The acquisition values Taylor at $78 million and is expected to be cash EPS accretive to Fluidra in 2021.
Fluidra, a worldwide leader in the pool and wellness industry and global manufacturer of equipment and connected solutions, today announced it had acquired Taylor Water Technologies LLC (Taylor), a leading US-based manufacturer of water-testing solutions.
Taylor, the foremost brand in water testing, joins Fluidra's family of already distinguished brands, including Jandy®, Polaris®, iAquaLink®, and SR Smith®. The addition of Taylor's highly trusted water-testing kits, strips, and instruments in North America not only broadens Fluidra's rapidly growing portfolio of pool and spa products and solutions, but also provides an established foundation in water testing from which the company can build upon with future innovations.
Founded in 1930 and based out of Sparks, Maryland, Taylor is the recognized leader in water-testing kits and reagents in the residential and commercial pool segments. With a catalog of nearly 600 test-kit configurations, their products are carried by over 400 distributors throughout the US, Canada, and Mexico with growing positions outside of North America. The previous 12 month's sales totaled $26 million with an EBITDA of $8.5 million.
"This is an important acquisition for Fluidra and will greatly enhance our offering," said Bruce Brooks, chief executive officer of Fluidra. "Taylor is the most trusted name in water testing within North America, and their expertise, coupled with Fluidra's track record of delivering new equipment and IoT solutions, will pave the way for future innovations that make managing watercare easier for both pool professionals and pool owners."
"It's exciting to become a part of Fluidra," said Stephen Heard, chief executive officer of Taylor. "We each bring unique expertise as part of the large, multi-segment pool market and are focused on combining those building blocks to provide best-in-class solutions for our customers."
Following the acquisition, Taylor will continue to operate independently as a business within Fluidra. Stephen Heard will continue to lead Taylor as its Senior Vice President and General Manager and will report to Troy Franzen, President of Fluidra North America. The Taylor team and its base of operations will remain in Maryland.
McGuireWoods acted as legal advisor to Fluidra. Stephens acted as sell-side advisor to Taylor, while Lowenstein Sandler acted as their legal advisor.