The Council for the Model Aquatic Health Code (CMAHC) to Host Webinar on Splash Pad Safety, Joined by the City of Arlington, Texas, and CDC
MARICOPA, ARIZ. – CMAHC will host a webinar focused on splash pad safety, scheduled for Thursday, June 1 at 11:00 a.m. ET.
During the webinar, Michael Debrecht, Assistant Director, Arlington Parks and Recreation Department, will discuss how the department responded to the death of three-year-old Bakari Williams after visiting Don Misenhimer Park splash pad in September 2021. Also discussed during this webinar will be the improvement and upgrades of equipment; implementation of the QR code; and the updated policies, procedures, and protocols for the aquatic facilities.
Debrecht will be joined by Michele Hlavsa, RN, MPH, chief of CDC's Healthy Swimming Program.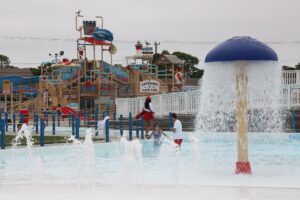 This webinar is free for CMAHC members and $10 for non-members. To register for the webinar, visit https://cmahc.org/posts/webinar-splash-pad-safety-june-1. Registration will close at Noon ET on Wednesday, May 31, 2023
About CMAHC: The Council for the Model Aquatic Health Code (CMAHC) was created to manage updates to, and promote voluntary adoption of, the Centers for Disease Control and Prevention's (CDC) Model Aquatic Health Code (MAHC), the only all-inclusive national model pool code. The MAHC is kept sustainable, current, and complete because the people who use it also research, develop, discuss, and vote on proposed changes through membership in the CMAHC. The CMAHC submits proposed changes to CDC, advising how the MAHC needs to change to keep up with the latest science and best practices. Throughout the year, CMAHC staff educate local and state authorities, aquatic facility owners and operators, designers and builders, manufacturers, and suppliers about the MAHC and the potential it provides to ensure a healthy and safe swimming experience for everyone. Learn more at CMAHC.org.
Media Contact:
Jill Shahravar