Lewisville PD has Not Ruled Out Foul Play

.

A swimming pool service company uncovered the badly decomposed body of an unknown male early Thursday morning. Nemo's pool service had been contracted for a 'Green to Clean' by Presidential Real Estate of Lewisville, who had recently acquired the REO property that had been vacant since 2019.

[responsivevoice_button voice="UK English Male" buttontext="Listen to Post"]

.
Pool Pro Discovers Homicide Victim.
STEPS THE POOL TECH SHOULD TAKE

WHEN A BODY IS FOUND.
This is how the scenario would play out in my head. Every time I approached the pool at a home that had been abandoned for a period of time, I would wonder to myself, 'Is today the day I find a body in the bottom of this swamp,' Sound like an overactive imagination? Maybe, but keep in mind I have at least one serial killer novel under my belt.
Identity is Unknown.
Besides, have you ever done a cleanout on a pool at a home that has been vacant for years? Some are fine, but other properties can be as spooky as all get out, to begin with. It probably doesn't help that I let my mind drift. I'll dissociate on some of the more menial tasks. During these moments, at times, I'd map out the steps in my head.
Similar story: Pool Pro Cleared by Autopsy
Coroner Has Yet to Determine Cause of Death.
Surprisingly, there is not a ton of instruction on what to do in this scenario on the internet. I mean, unless I searched for it wrong. It seemed pretty cut and dry to me – I typed in 'What steps do you take when a dead body is discovered?' Still, I would think, for the most part, it would all be pretty much common sense.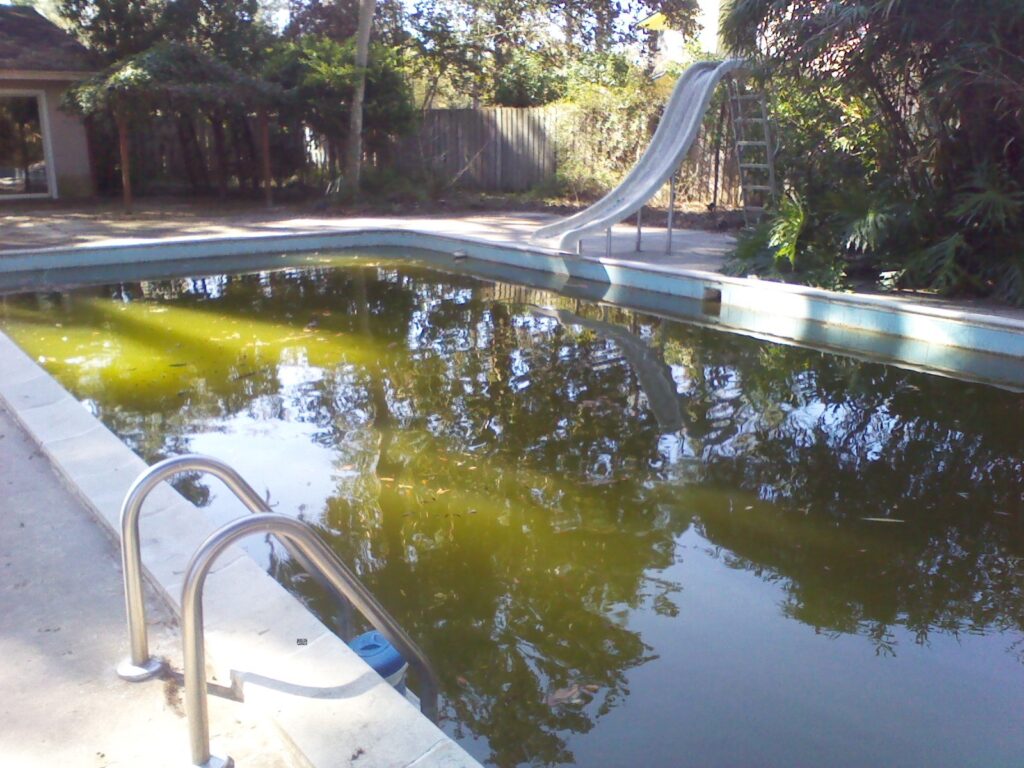 Body Found in Swimming Pool Protocol:
Stop everything you are doing immediately.

Just stop. Don't even move your stuff. If you have a vac in the pool, just shut off the power to it and leave it – place the handle of the telepole down, so it rests against the coping. You don't want to disturb anything anymore than you already have.

Call 911.
Notify your customer.

They are going to need as much time to deal with this situation as possible. They're also likely to want someone onsite while the authorities are there.

Don't go anywhere.

The police are going to want to speak with you. Make sure you cooperate. They are going to need as much information from you as possible.

I would start jotting things down as soon as I got off the phone with the emergency operator. Bullet point the steps leading up to the discovery. Every chemical added. Every pool tool is used. Bullet point every action you had taken from the time you found the body all the way up until the first officer arrived on the scene.

Do not leave until you are told by the detective in charge that you are no longer needed.

Be respectful of the deceased, their family, and your customer.

Don't go posting this on social media.

Be prepared to complete the job as soon as you are notified by your customer, the realtor, that it is okay to do so.
Dammit, Officer, I'm a Pool Guy, not a Crime Scene Investigator.
This is true, and I definitely don't want to steer anyone in the wrong direction, especially on something like this. So, I reached out to one of my pool service customers; retired police captain turned detective author, the popular crime writer Mr. Nick Vellis.
Murder Mystery Author Assists Authorities.
Once a body is found in the swimming pool, the pool service tech should stop all operations, call law enforcement, and stand by. They should not attempt to recover the body. The pool professional should also attempt to disturb things in the vicinity as little as possible. There is a whole protocol for recovering a body from water. Once the body is discovered, they should leave it be and call the police.

If the person is obviously deceased, the body should be left alone…Some signs would be a bloated, discolored body and human waste present in the water. If the person discovering the body is unsure the person is deceased, they can do a quick check for pulse or breathing. After determining the person is deceased, they should leave the body until the authorities arrive.

Liability would be a concern if a homeowner observed a technician taking no action if, for example, a homeowner. When a body is obviously deceased, it should be left alone. If there is a question, the tech should try to decide. Should they move or remove the body from the water, they will be questioned about where it was found and in what state it was in when found.

As I said yesterday, if the technician goes to a green pool and begins to clean and finds a clearly dead body that has been in the water for some time, they should leave it and call law enforcement. The natural urge will be to attempt life-saving measures. If doing so MIGHT save a life, it should be attempted. The difference will be if the person is obviously dead or not.

Nick Vellis, Retired Police Captain & Murder Mystery Author.
The Green Water Strangler?
Turns out my 'Body Found in Swimming Pool Protocol' is spot on. Not too shabby for a pool guy who writes serial killer thrillers from the serial killer's perspective. There may be a book in the future with this foreclosed green pool dump site M.O. Check Here
After the Body is Removed.
At this point, once you had received the 'go-ahead' to resume, no matter what your plan for treatment was when you started, I assume you'll just be draining and refilling now. Even if you are called out to treat a crystal clear, well maintained swimming pool, a drain, and fill is probably the best course of action. Yes, you can successfully treat it chemically, but most people are probably not going to want to swim in the water the dead person was in no matter what you do to it.
With that said, you should not drain water from a swimming pool unless you are a qualified and licensed (where required) pool professional who is familiar with groundwater tables and the installation of well points.