On July 4th, Canadian celebrity builder/contractor Mike Holmes from the popular series Holmes on Homes shared an article from his Holmes on Homes 'Make it Right' podcast site titled Swimming Pools 101 – Everything You Need to Know Before Adding a Pool. The article, originally published in December of 2020, briefly discusses the joys and benefits of pool ownership before turning to a comparison discussion on the types of pools available. It was all fine and dandy until a Pool Pro Disagrees with a Celebrity Contractor.
Vinyl, Fiberglass, or Gunite
Embedded in this article is the YouTube video of the contractor's 3rd podcast episode, 'The All Season's Leisure Pool,' which had originally premiered on April 21st of this year. The blog post also features a television commercial Holme's had appeared in as a Celebrity Spokesperson from late 2020. Nothing out of the norm here; everyone is entitled to their own opinion, and everyone deserves to get paid (I'm assuming the television commercial was not done for the Fiberglass pool manufacturer out of the goodness of Mike's heart).
So far, so good, nothing to see here. But, in that write-up is also a chart comparing numerous features of the three different pool types, vinyl, fiberglass, and gunite which the fiberglass pool manufacturer had created. This includes everything from the speed of installation to vessel type durability; even the comfort of the surface on the bather's feet is rated.
It Happened on Facebook
This is where things hooked a sudden left. Shortly after Mike Holmes, or Mike Holme's social media manager, posted the article to – wait for it – the Holmes on Homes Podcast page on Facebook, the chart was read by a swimming pool professional, Scott Walker. The pool pro disagreed and shared his opinion as a comment on the contractor's post. In an attempt to correct what he believed to be a biased representation, Walker may have been a little passionate in his attempt to ensure the public receives a more partial comparison.
Similar Article How Can a Homeowner Tell if a Pool Person Has Had Any Training?
Pool Pro Disagrees with Celebrity Contractor
Holmes quickly responded, suggesting Scott calm down and asking if the pool pro thought the chart was wrong. This is where the magic of a Facebook post takes place. The contractor's response to Walker quickly received 897 reactions and a whopping 176 comments. These were either supporting Holmes, bashing Walker, or both. At least one of those comments in that branch of the thread is from Walker himself. There are also a handful of other pool professionals sharing their agreement that the chart was deceiving.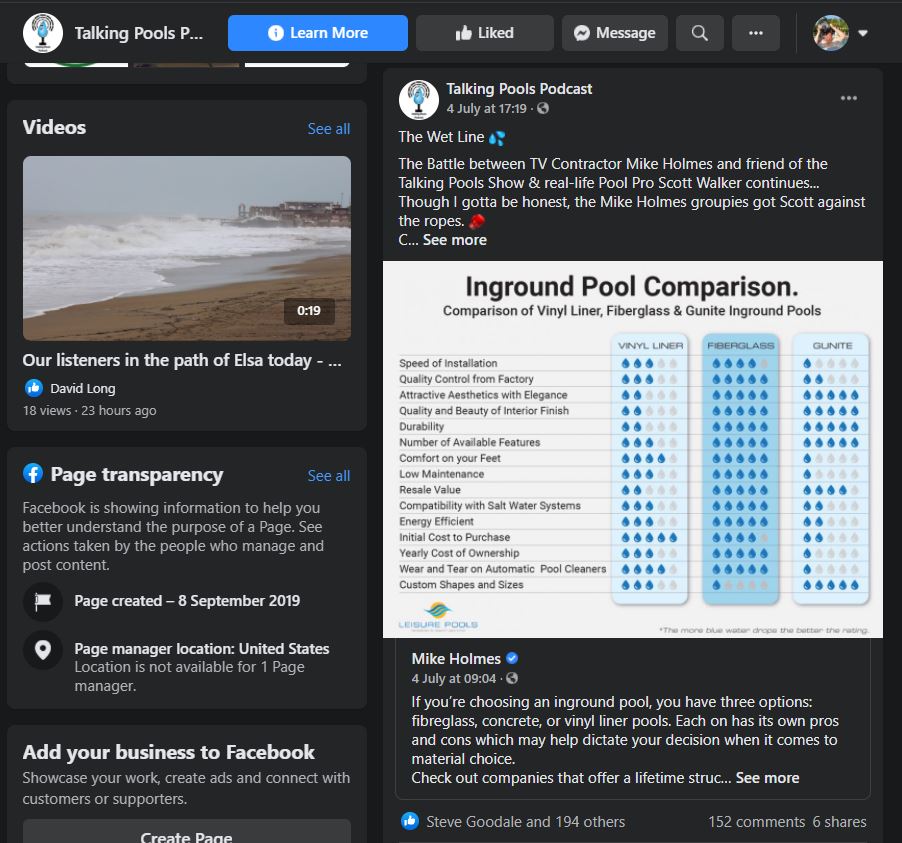 I shared the post on the Talking Pools Podcast page. There I referred to it as 'The Battle between TV Contractor Mike Holmes and friend of the Talking Pools Show & real-life Pool Pro Scott Walker.' To this, Holmes quickly commented that there was no battle and was just looking to learn. Okay, my bad. Disagreement may have been a better choice. The majority of the 791 comments on the celebrity page are made by people other than Mike Holmes or Scott Walker.
A viral post is born
It was fans of the Holmes podcast and professionals from the swimming pool industry to a much lesser degree. Holmes's statement here set a very different narrative for the 150 comments that ensued. Regardless, FB is telling me that this share received over 4,400 engagements. I cannot begin to imagine the amount of activity the original post is receiving, but it's got to be huge. I would think it is not very likely that Holme's expected an article about pool types would receive this reaction.
How would you rank the three pool types (Vinyl, Fiberglass, Gunite) in a Good, Better, Best rating?