Association of Aquatic Professionals and Council for the Model Aquatic Health Code
Partner to Offer MAHC Tracks at the AOAP 2023 Conference

CMAHC to also host Safety Plan Workshop, CPO Course, and Environmental Health Leaders Forum
Maricopa, Ariz. – The Council for the Model Aquatic Health Code (CMAHC) is partnering with the
Association of Aquatic Professionals (AOAP) to offer MAHC Tracks for the second consecutive year
during the Annual AOAP Conference & Exposition, scheduled for Feb. 11-18, 2023, at The Broadmoor in
Colorado Springs.


MAHC Tracks are educational sessions on the Model Aquatic Health Code (MAHC) presented by CMAHC,
a member-driven nonprofit organization that exists exclusively to advocate, evolve, innovate, promote
implementation, and make recommendations to the Centers for Disease Control and Prevention (CDC)
on needed updates to the CDC's Model Aquatic Health Code (MAHC). The MAHC is the only all-inclusive
national pool code that addresses current aquatic issues and provides voluntary guidelines to prevent
injury and illness at public aquatic venues.

The following MAHC Tracks will be available at the conference, led by CMAHC team members and other
leaders in the aquatics industry:
MAHC Tracks Presenter Schedule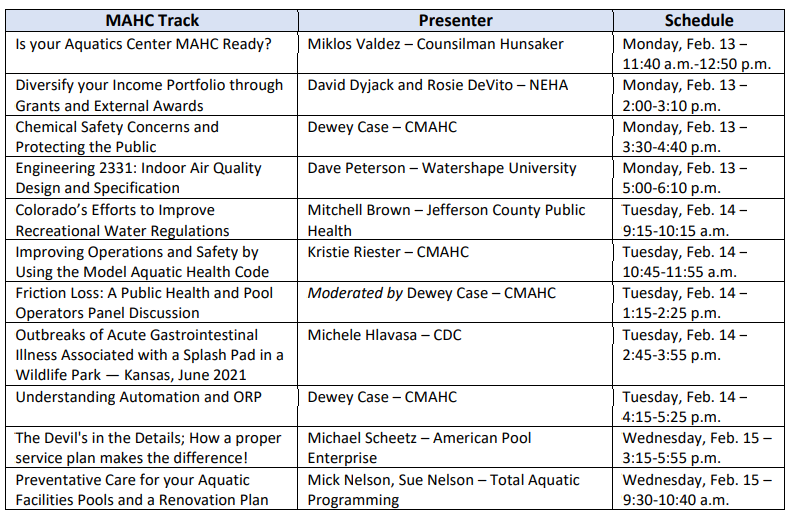 ABOUT AOAP:
The Association of Aquatic Professionals is a domestic 501(c)3 Non-Profit Corporation
that exclusively promotes and advocates for policies, practices, and procedures that contribute to safer
and improved aquatic education, aquatic recreation activities, programs, and facilities; provides and
supports quality aquatic education opportunities; coordinates and conducts research in the field of
aquatic management and safety; promotes coordination and cooperation between established aquatic
associations responsible for all aspects of aquatic programming, aquatic management, aquatic operation
and maintenance and aquatic facility design. As well as providing an annual conference and educational
workshops for communities on drowning prevention and education. A portion of all proceeds will be
used towards drowning prevention, i.e., for Learn to Swim Program Lessons and Grants for Life Jackets.
Learn more at https://aquaticpros.org.

About CMAHC:
The Council for the Model Aquatic Health Code (CMAHC) was created to manage
updates to, and promote voluntary adoption of, the Centers for Disease Control and Prevention's (CDC)
Model Aquatic Health Code (MAHC), the only all-inclusive national model pool code. The MAHC is kept
sustainable, current, and complete because the people who use it also research, develop, discuss, and
vote on proposed changes through membership in the CMAHC. The CMAHC submits proposed changes
to CDC, advising how the MAHC needs to change to keep up with the latest science and best practices.
Throughout the year, CMAHC staff educate local and state authorities, aquatic facility owners and
operators, designers and builders, manufacturers, and suppliers about the MAHC and the potential it
provides to ensure a healthy and safe swimming experience for everyone.
Learn more at
https://cmahc.org.
MEDIA CONTACTS:
AOAP: Melissa Fadler CMAHC: Jill Mastrangelo