Just when you thought it was safe to go in the…..pool?
Shark Pool, from Woodhead Entertainment, is a brilliant independent short that starts out with the same grossly over-done concept of a group of teens gathering for a party that has played repeatedly since the counselors first gathered at Camp Crystal Lake.
? Don't go in the pool!
Complete with all of the teen horror comedy essentials including a jeep full of wassailers, Styrofoam cooler, and red solo cups present en masse. Think Idle Hands (Seth Green, Devon Sawa), except with a pool, a shark, and well never mind. Its really nothing like Idle Hands, but it is funny as ? .


The first one in is rotten …. bait? It is literally not more than seconds into the movie when a bikini clad blonde (Sarah Baldwin – Dads) shouts "There's a shark in the Pool".  Some dude, who reminds me of everyone I hung out with in high school, steps up and takes charge demanding that everyone immediately get into the pool – YES, with the shark… but, he does advise caution. Huh?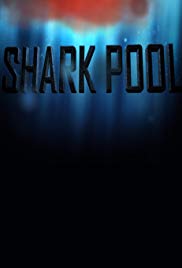 Directed by Tony Yacenda and starring Jonathan Lipnicki (Jerry Maguire), this 2011 film continually pokes and pulls at what has become the blueprint for teen party horror in the US. The death toll begins to rise as an outcast (Dan Perrault – producer American Vandal), the voice of reason, suggests the best method to avoid natural selection would be to refrain from entering the pool.  Together, in this ingenious spoof on teen horror flics, the partygoers  attempt to develop a plan (aside from not going into the pool) to avoid the carnage of what appears to be a great white that seemingly has appeared from nowhere. The outcast, a Peter (Ron Livingston) from Office Space type, continues to be the only proof of intelligent life (well, aside from the shark) throughout the entirety of the film
The only way this film could have been better is if they had actually made a movie to go along with the trailer. Pool Shark also stars Artie Baxter (Gridiron Gang), Kojo Asiedu (Rizzoli & Isles), Dan Perrault (producer American Vandal), Makinna Ridgway (Grimm), and Sean Carrigan (John Carter).
?
When McGradey (Tobin Bell), the pool manager, triggers the automatic pool cover to close, two sisters become trapped beneath the surface. The struggle to get out of the pool is only over shadowed by the personal differences the young woman have for one another. Add a crazed parolee caretaker on a work release program and settle in for a night of terror. Read our review on the movie 12 Feet Deep
?
When the sight of water fills you with an urge to kill, it only makes sense that you take a job working for a pool service company. That is exactly what Johnny Taylor (Randy Wayne – Escape Room 2018) did in "Death Pool", directed by Jared Cohn (Atlantic Rim: Resurrection) and co-starring and Sara Malakul Lane (Cowboys vs Dinosaurs 2015): Read our review on the movie:  Death Pool