In 1829, Friedrich Wöhler began experimenting with heating urea and uric acid. Why? Who knows. My first thought is WTF?! But, in doing this, he became the first person to synthesize CyA (cyanuric acid). Yes, cyanuric acid is created in the thermal decomposition of Urea. In 1956 it made its way into the swimming pool industry and it has been a love/hate chemical ever since. But, the energy crisis in Europe we are currently facing will make the availability of the chemical a scarcity and a cyanuric acid shortage the subsequent shortage on the horizon.
Trichlor availability in 2022 looks bleak
These are the exact reasons I will never be on Shark Tank. I just don't think that way. I mean, one day, this guy decides to heat Urea just to see what happens. Who does that? Wait, it gets better. 127-years later, another dude decides to mix this byproduct of the heat degradation of Urea with chlorine and toss it in a swimming pool. Hold my beer.
similar article Lower Cyanuric Acid in Swimming Pools Chemically
Everything is a crazy idea until it isn't. If it were my responsibility to invent things, we'd all still be sitting in the dark; an electric candle in a glass bulb – Please!
Let's not get all disgusted by it. It's not the guy pissed into a pot and put it on the stovetop. Wöhler had found (many believe to be accidental) the year before his CyA discovery that he could create Urea artificially by treating silver cyanate with ammonium chloride.
CyA cannot be manufactured without Urea
Believe it or not, cyanuric acid is still manufactured using this thermal decomposition method of Urea and uric acid. Mass-producing Urea in the industrial quantities needed by the world today requires massive amounts of energy. Cyanuric acid factories are small potatoes for Urea plants. Over 90% of this diamide of carbonic acid produced globally goes directly to the fertilizer industry. But, the fuel consumption necessary to meet that demand is what's about to kick us all in the ass.
The natural gas prices across Europe are going through the roof. This has forced a continent-wide shut down of Urea plants, which has driven the cost of the chemical to the highest price from European manufacturers that it has been in over a decade. To make matters worse, the energy crisis has made its way to China. So, in other words, they are going to keep what they manufacture for themselves.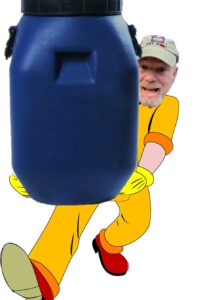 Trichlor Chlorine tabs can't happen without CyA!
FYI: A metric ton weighs slightly more than a U.S. ton, but a hair less than a sh*t-ton. According to NationMaster, the U.S. imports 2,957,765 .72 metric tons of Urea each year. China is currently the world's largest exporter of Urea, and they are considering restricting urea exports to ensure domestic supply. Indonesia is likely to follow suit because of its domestic needs as well.
Similar article Cyanuric Acid, Chlorine Lock, and the CDC
The United States is one of the top five importers of Urea in the world. Although the U.S. is one of four nations that account for 10% of the world's cyanuric acid production, China is still the foremost manufacturer of this product yielding 75% of the world's supply. That said, before the fire caused by Hurricane Laura that birthed the great chlorine shortage, Biolab imported 62,142,000 pounds (on average) of Cyanuric acid into the United States monthly from Asia.
Buckle your seatbelts, this supply-chain rollercoaster ride of a shit show in the pool industry is far from over.
INSIGHT: Fertilizer prices on the rise as energy crisis, tight availability, bite | ICIS
Global Cyanuric Acid Market 2020 by Manufacturers, Regions, Type, and Application, Forecast to 2026 – Marketsandresearch.biz
Top countries for Urea Fertilizer Imports (nationmaster.com)
Friedrich Wöhler | German chemist | Britannica
I earn a little commish on the product pics that link to Amazon.