Duke University Aquatics
There is a lot more to consider when maintaining these collosal giants of competition and wellness than one might think. Pool Operators face a myriad of challenges above and beyond balancing the mega gallonage at a body of water whose role serves as recreational, fitness, and sports venue. Duke University's Director of Aquatics, Abi Schaefer, joins us to discuss some of the intricacies of operating a collegiate swimming pool. Here is what Abi had to say: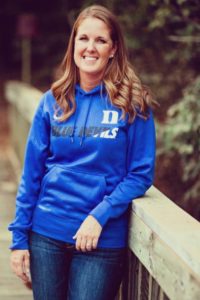 Duke University is unique in many aspects of everyday life for a university, but I like to think it is tremendously unique when it come to the Aquatics world. Duke University Aquatics sits in a very rare spot when it comes to University Recreation and Aquatics. On a day to day basis we serve so many different populations and groups of people that it can become very challenging to ensure each group and population has the best possible experience, all while keeping the safety of our clients, athletes, and patrons in mind. Duke Aquatics oversees the operation and programming of three facilities; Taishoff Aquatics Pavilion, Brodie Aquatics Center, and Central Campus Pool. Each facility brings diverse challenges and opportunities alike.
Taishoff Aquatics Pavilion for example houses; the Varsity Swim and Dive teams, recreational lap swim, Masters swim team, Physical Education Courses, Club Swim team, Club Water Polo, and Duke Dive Club. On the other hand, Brodie Aquatics center supports our; learn to swim program, American Red Cross Lifeguard program, weekly Kayak Clinics, Stand Up Paddle Board programming, recreational lap swim, Physical Education Courses, and weekly Special Olympics practice. Outside of those two facilities we have seasonal outdoor facility, Central Campus Pool. This facility is used for students during the Spring and Fall semesters as a place they can go, relax, study, and take a life time out; however, during the summer months this facility is generally home to the Duke communities faculty, staff, and families. This is designed as a recreational pool that can have anything from recreational lap swim, learn to swim programming, weekly outdoor kayak clinics, birthday parties, group rentals, and just an exclusive space for the Duke Community to utilize.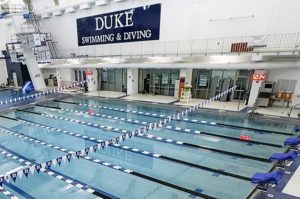 All of this being said creates our biggest challenges; scheduling, spacing, timing, and safety. Everything has to run as a well-oiled machine in order to ensure that each group, club, practice, and program has access to the facilities at their scheduled time, date, and location. For example; if one facility has a maintenance issue, as all pools do from time to time, it effects more than just that specific facility because most programming has to be moved to another facility or cancelled all together. Not only does this create a scheduling nightmare, but it can take away from the overall experience we want to provide each and every patron. It truly takes a team of pool operator professionals, aquatics professionals, coaches, and key part time staff to make sure everything stays up and running. Additionally, the schedule must be put together, keeping each specific group, team, club, etc. in mind, even leaving one group out can throw off this delicate balance.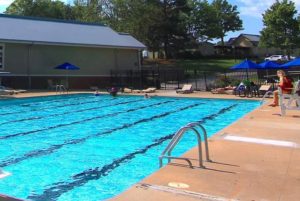 The most important aspect to remember is safety. The schedules have to be designed in such as fashion that the pools are not over loaded, that programs are not so large that they take up their space and space of another program, and that everyone is safe. For example, you would never want to put a Level One Learn to Swim Program at the same time as the Kayak Clinic. It takes a critical eye and true understanding of what each group needs to be successful to have well ran facilities and programming.
To see what University of Georgia's Director of Aquatics, Alex Nichols, had to say on the subject in the Spotlight on UGA: University of Georgia Aquatics
[ratings]