⛈ Severe Storm Warning
All of our friends in Louisianna and surrounding areas, you are in our prayers. Hurricane Ida is going to be a nasty storm. I know a state of emergency has already been declared. Evacuation orders are in place for certain areas and a dangerous storm surge is expected. They are calling for seven to eleven feet of water in some areas. The safety of you and your family is the most important thing we should focus on. If you are reading this and there is anything we can do to help, I don't care if you own a pool or not, please let us know. talkingpools@gmail. We are praying that you and your family make it through this powerful storm unscathed. 🙏 – Rudy Stankowitz, August 28, 2021
HURRICANE SEASON: Atlantic hurricane season is June 1st through November 30th. Gas for the generator, Water, and food. Plywood to board the windows. Coastal areas watch for evacuation notices. Don't forget the swimming pool. If you have a friend at a facility with a pool in these areas, sharing this guide on preparing your pool for a hurricane is okay. These are the same steps you would follow for any weather event (Tornado, Hurricane, Flood, etc.)
Preparing Your Pool For A Hurricane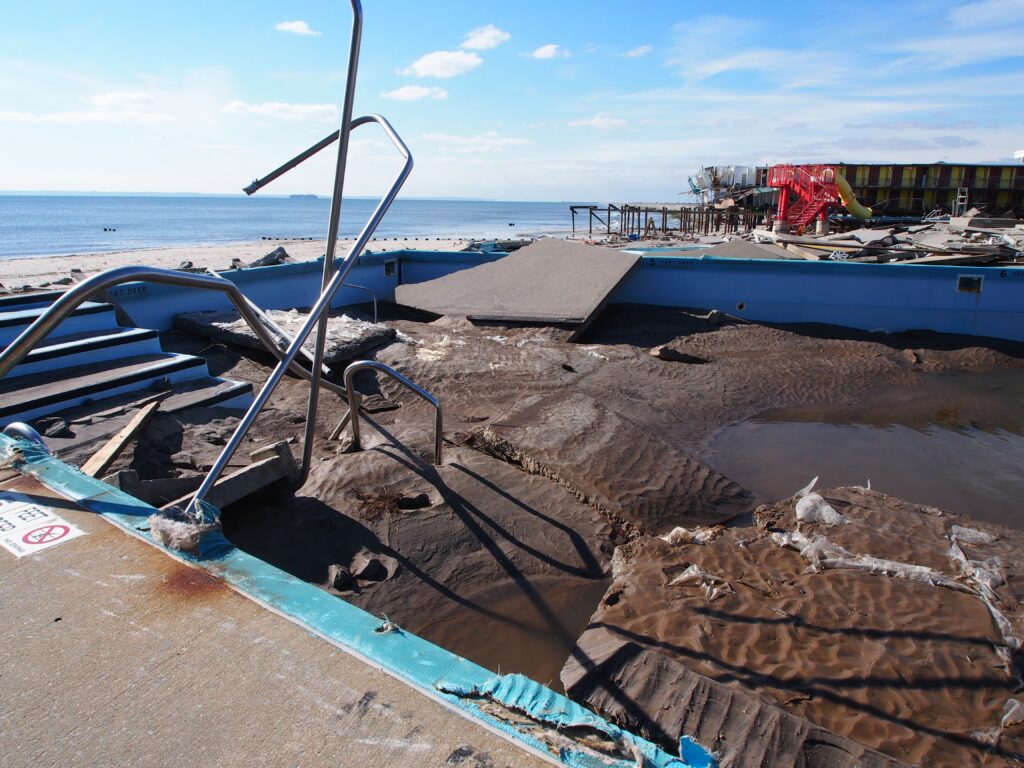 Preparing Your Pool For A Hurricane
With everyone stocking up on milk, canned foods, gasoline, and water, I thought it would be an excellent time to suggest that we don't forget about the pool. Just like with anything else, a little bit of preparation can go a long way.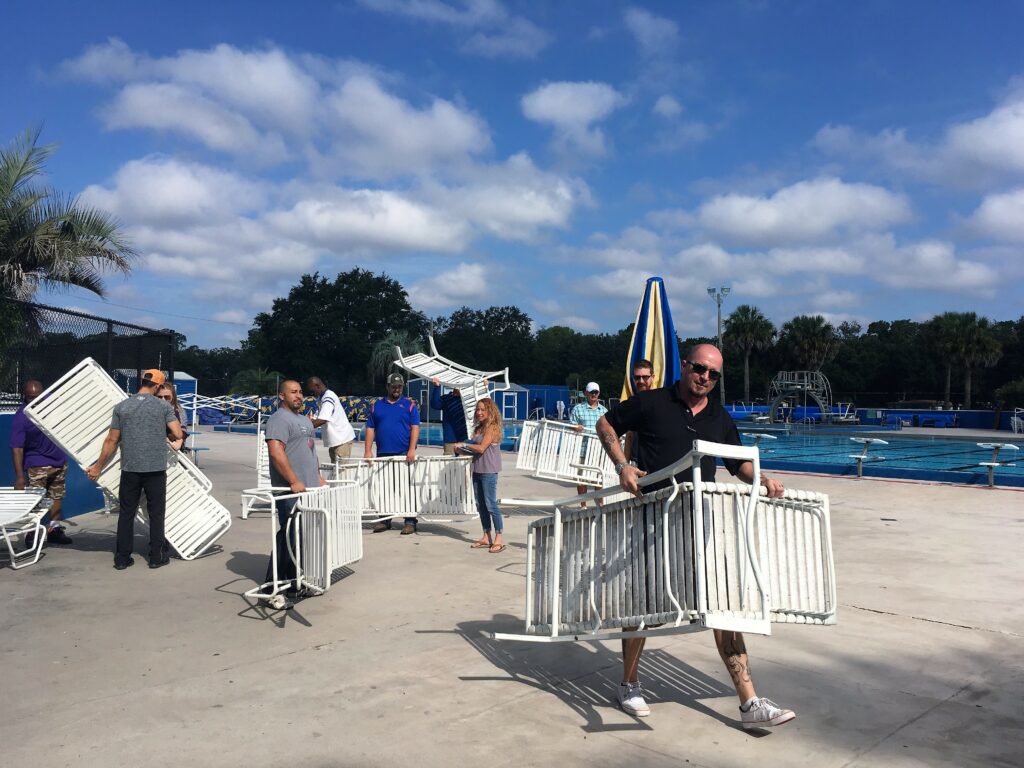 Securing Potential Projectiles
I've never been a huge fan of "throwing all the patio furniture into the pool." This can only be problematic. See if you have somewhere inside that you can stack these things. A building or a garage would be a much better choice. Lounge chairs and tables, even if only plastic, can damage the surface of your pool. In a vinyl pool, you'll risk tearing the liner. If you have no other option than to put these items into the pool, let's not "Throw" them in. Instead, place them gently.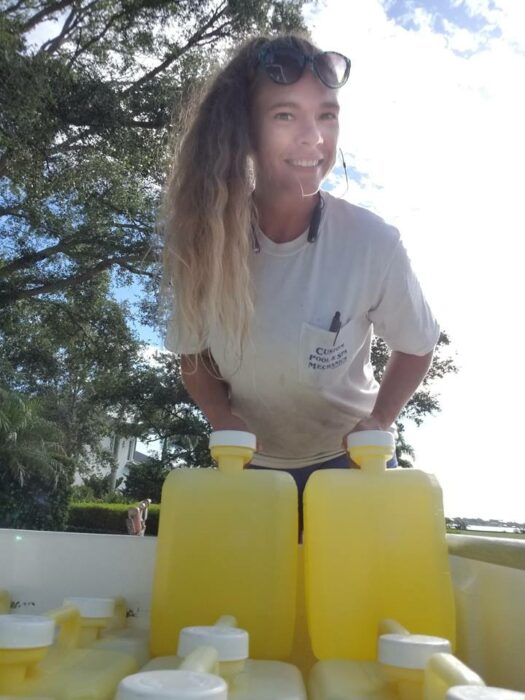 Stock Up On Chems
This is often overlooked, but we all go out and stock up on everything else, right? While everyone else is in line at the gas station, let's take advantage of our local pool distributor or pool store. Stop in and pick up several 2.5-gallon carboys of liquid chlorine bleach. Even if you don't regularly use the liquid, get the liquid. We have to consider that we might not have power after the storm. To put any other type of chlorine into a pool without a pump that's running, it would have to be pre-dissolved. This can take a while for all types, except for sodium hypochlorite (liquid chlorine bleach).
YES! This is the same instruction for Saltwater Pools.
Going ahead of time is essential here too. I can't tell you whether or not your pool store will run out of chlorine during a hurricane. They will, however, possibly lose power during the storm, just like you. If this occurs, they may not be open, and you will have no access to the chemical. Besides, while you are in there, you can also look for a chemical called aluminum sulfate. They will most likely have the product labeled as Floc. Below is a before and after photo Jeff Owens of Richmond, Texas, took following Hurricane Harvey, where he used aluminum sulfate for his clean-up.
Before Alum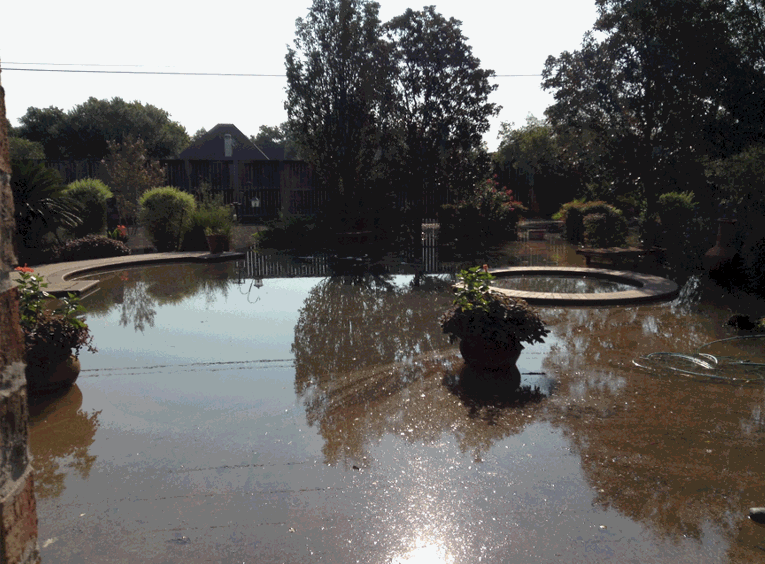 After Alum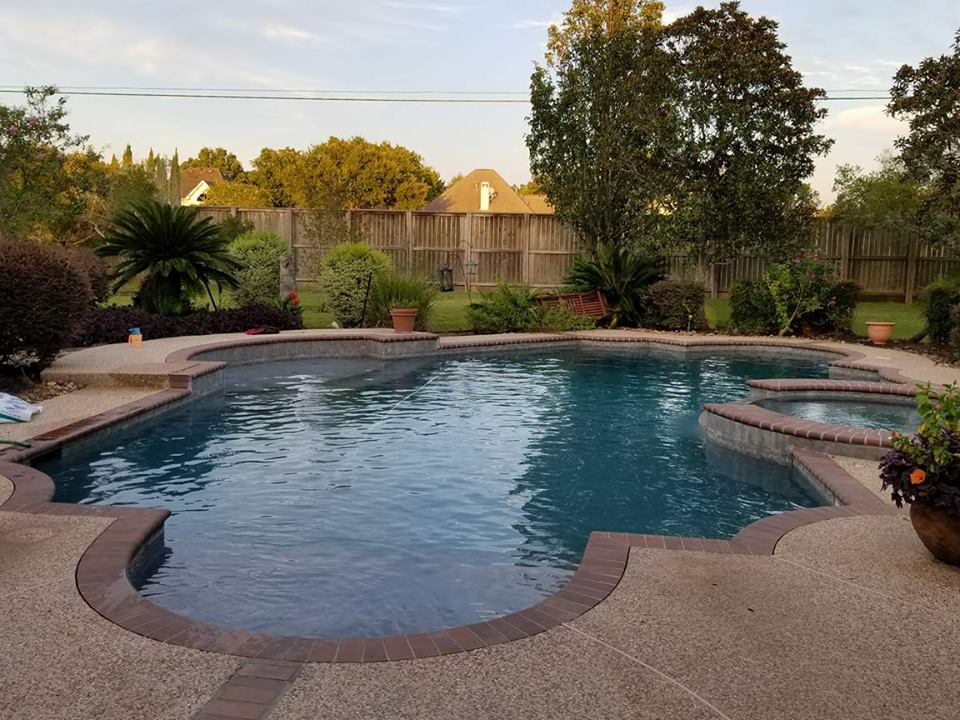 What!? No Chlorine?
If your distributor or pool store should run out, a power outage runs long, or you couldn't get there for whatever reason, have no fear. You can use household bleach from the supermarket in a pinch. It is the same chemical, just a bit weaker. Of course, you'll want to avoid using a scented sodium hypochlorite product if at all possible. You never want to use "splashless" bleach because nobody really knows what's in there, but we do know it isn't chlorine. Well, not much anyway.
This also DOES NOT mean that it is okay to use liquid chlorine bleach for swimming pools in your washing machine. You will destroy all of your clothing and be the only one wandering around town naked during the Hurricane. You would also ruin your washing machine.
Sodium Hypochlorite Dosing Calculations
Liquid Chlorine Bleach 12.5% = 10.25 ounces will increase the Free Chlorine level of 10,000 gallons by 1ppm
Household Bleach 6% = 20.75 ounces will increase the Free Chlorine level of 10,000 gallons by 1ppm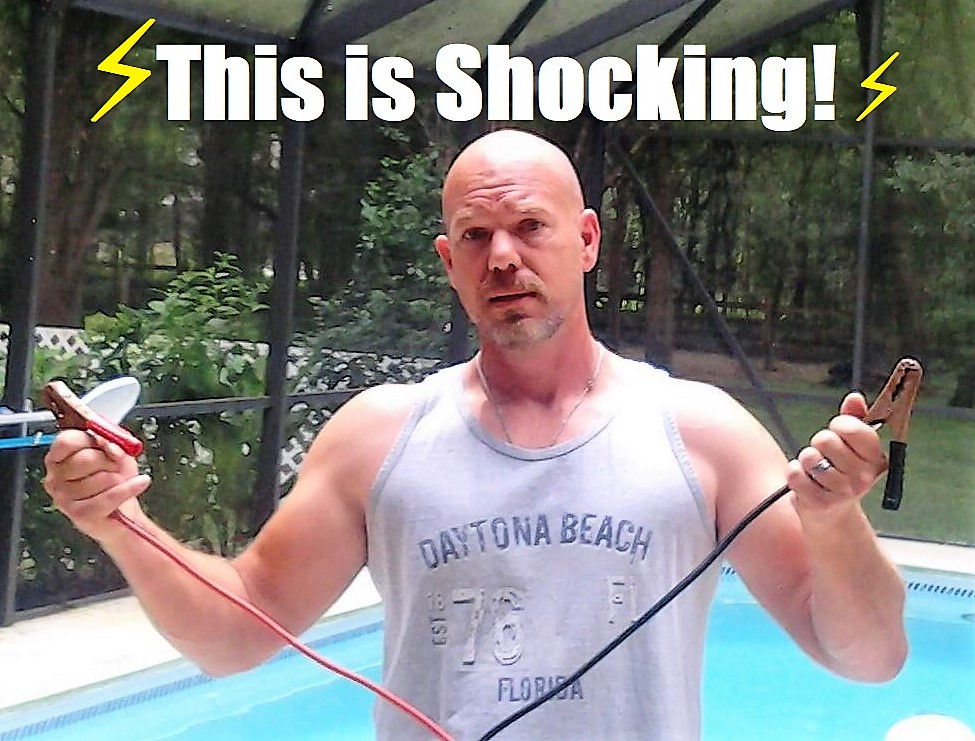 Should I Shock it?
You will want to go into the storm with an elevated chlorine level. Before you do that, you should test and adjust the rest of your water chemistry. I know, we're gonna get tons of rain, and that's going to throw it all off anyway. I get it, but the better a place our water chemistry is heading into the storm, the closer it will be to being in balance once it is over. Besides, our Chlorine's effectiveness could be affected by other chemistry things that are going on in the pool. Shoot for the ideal range. The pH should be between 7.4 to 7.6. Total Alkalinity should be between 80ppm and 100ppm. Calcium Hardness should be between 200ppm and 400ppm. After we get those things adjusted, we can bring the chlorine level up high. I would shoot for 20ppm heading into the storm.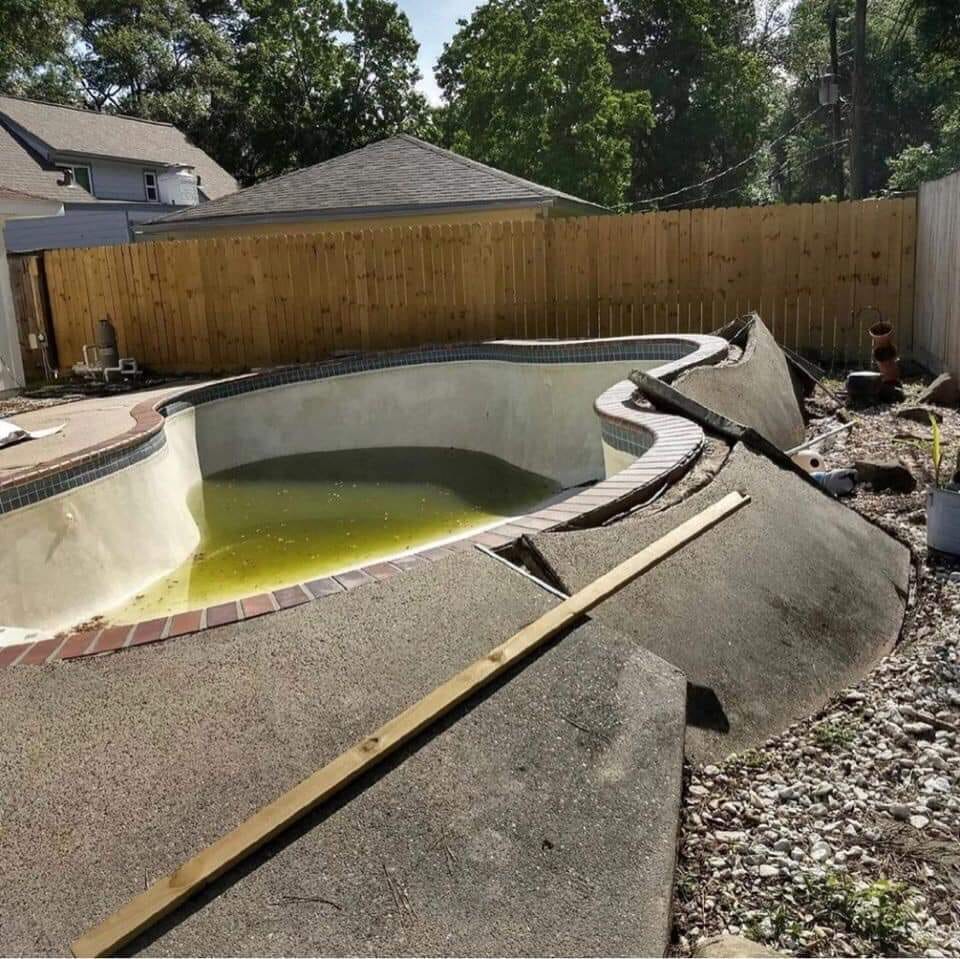 What About Draining Water?
DON'T! Don't do that. Draining water from a pool is a decision that you may come to regret in a big way. Water is heavy. At 8.33lbs per gallon, your average Florida backyard pool of 15,000 gallons has 124,950 pounds of water in it. When the groundwater level is high, like it is now and has been since Irma-geddon, the weight of the water has a lot to do with keeping that pool in place. If you remove the water, some or all, you run the risk that your pool could POP or Float. Without the water in it, your pool really becomes just a big plaster boat. Now think about how much higher the water level will be with the rain a hurricane will bring.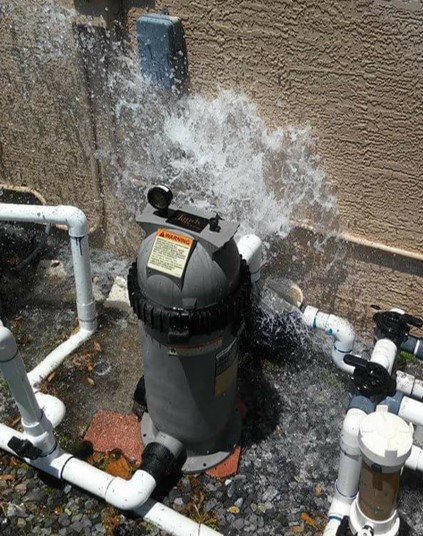 Should I Turn Off the Power?
Yes, but not right now. I want to run the pump and filter the water up until the day the storm is due to hit your area. Pay careful attention to the weather to get caught off guard if the hurricane decides to speed up. I want the water to circulate as much as it possibly can before we shut it down. Then I want to ensure that we've allowed sufficient time for the equipment to cool down before covering it. Pool motors that are not part of a variable speed pump get really hot during regular operation. If I were using a tarp, I would like it to not melt to it.
After we shut off the pump, we should then shut off the breaker. We do not want the system to turn back on unintentionally should the power return. We also do not want to risk a surge damaging the pump. I would also remove the trippers from the time clock as an added precaution.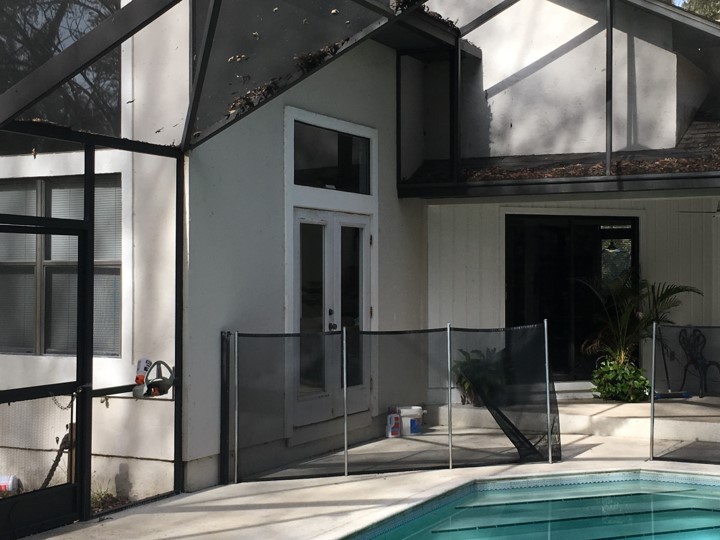 Screen Enclosure Precautions
This is tough, for as much help as these things are in keeping leaves and debris out during normal conditions, screen enclosures almost always see damage during a severe storm. The best precautionary measures you can take here would be removing a screen panel or two opposite one another. This may help a little in reducing the effect of the wind by "venting" the enclosure. Of course, you could remove all of the panels to reduce further the odds of your enclosure winding up in your neighbor's yard. Doors usually take a beating in hurricanes as well; if you are able, it would be wise to remove these as well. I usually recommend removing the screen doors, providing your yard is fenced. It's a lot easier to reinstall doors than screen panels. IMO
IMPORTANT:

Gainesville Regional Utilities Hurricane Prep Checklist Click Here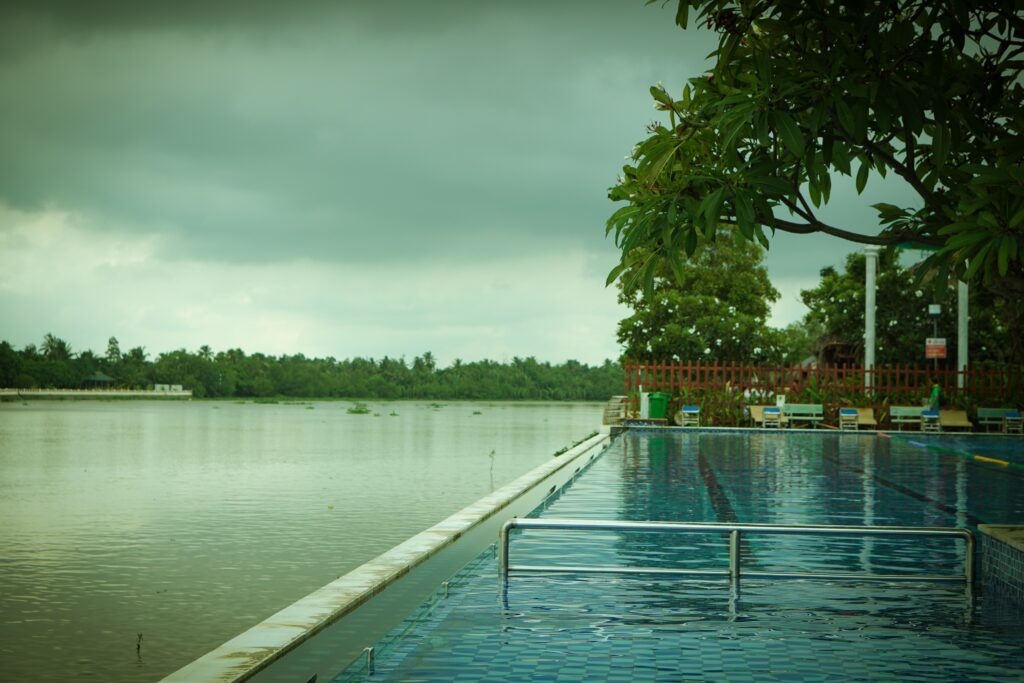 Post-Hurricane Swimming Pool Check List
As soon as it is safe to do so, we can begin to attend to the pool
Remove all Large Debris (We don't want to drag sticks or branches in vinyl lined pools as it may damage the liner)
Return Water to the normal operating level: Mid-point of skimmer opening, or just above the lip of the gutter.
Ensure suction outlets are free of debris (Main Drain, Skimmer Basket, Gutter Grates)
Replace any components that have become damaged due to the storm
Thoroughly Inspect swimming pool equipment
Once power has been re-established, if there is no visible damage to equipment, turn the breaker for the equipment on
Turn on the pump at the time clock, DO NOT reinstall "On" and "Off" trippers.

Test & Balance Water Chemistry (Utilize parameters in the "Should I Shock It?" paragraph above)

Shock the pool and consider the water to be contaminated.

You will want to maintain a chlorine level of 20 ppm for a minimum of 28 hours

If you are not using a stabilizer (cyanuric acid), 12.75 hours with a 20 ppm chlorine level will suffice.

Your pH should be at 7.5 or lower
Do not drink the pool water.

Run Filter 24/7 until clear and a chlorine residual has been established.
Resume Normal Operation
If you are reading this and you are NOT a Pool Pro, CPO, or Aquatic Professional please contact a Swimming Pool Service Company to Help Remediate the Aftermath of the Hurricane.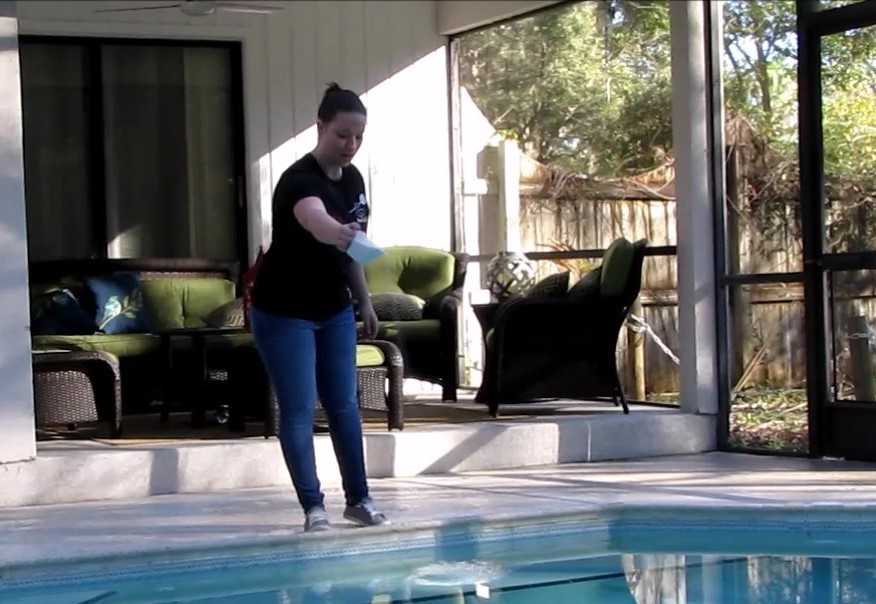 Using a Pool Service Company
If you are using a swimming pool service company, whether your regular service company or just after the storm cleans up, please be patient. Try to remember that everybody's pool looks just like yours does, and some look even worse. The service company will also have the added challenge of getting from home to home with downed trees blocking roadways and a potential gasoline shortage. Understand that this individual's home has gone through everything yours has. Please know that you are a priority, and they are doing everything they can to get to you as quickly as possible.
If anyone needs assistance in locating a Pool Service Company, Certified Pool Operator, or AFO for help in the recovery process of your swimming pool following the storm, I am certain that we will know of someone in your area. If you have a question, we can help there too. Would you please not hesitate to reach out to us via our contact form?
Similar Article Chlorine Gas Cloud Injuries at Public Pools Caused by Liquid Chlorine Injection Malfunction ⚠️
I hope this has helped you in making Preparing Your Pool For A Hurricane easier!